Muck stars horror legend Kane Hodder, Lachlan Buchanan, (Newcastle, NCIS: Los Angeles, Pretty Little Liars) Jaclyn Swedberg, 2012 Playmate of the Year, Bollywood star Puja Mohindra, as well as many attractive new comers and a handful of models. Muck is the middle chapter of a true horror trilogy that plays like a love letter to horror fans. We filmed Muck for ultra HD completely on Red Epic.
With NO CGI what so ever, Muck can be best described as Evil Dead meets The Hills Have Eyes meets Die Hard. The MPAA has yet to offer their ruling, but it's safe to assume that Muck will receive a "Hard" R rating that will read something like this: Strong intense violence, graphic nudity, hard language, disturbing images, and creature gore throughout. Casting is underway for Offed, the prequel to Muck, that will be shot later this year.
Tagline: Tattered and bloody, a group of friends were lucky to escape the thick New England marsh and take shelter in an empty vacation home on Cape Cod, though they will soon realize that the lucky ones are those that are already dead…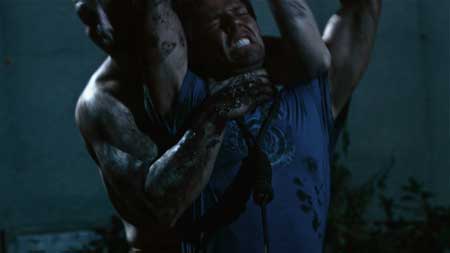 Story line: After narrowly escaping an ancient burial ground, long forgotten and buried underneath the marshes of Cape Cod, a group of friends emerge from the thick, marshy darkness, tattered and bloody, lucky to be alive. They have already lost two of their friends in the marsh, presumably dead. They stumble upon an empty Cape Cod vacation house alongside the foggy marsh and break in to take shelter. Whatever was in the marsh is still after them and soon after one of them goes for help, the rest of the group learns that the evil in the marsh is not the only thing that wants them dead. Something worse, something more savage, was lying in wait just outside the marsh, in the house. What happens next is unspeakable, horror that cannot be unseen. These unlucky travelers spend their St. Patrick's Day trapped between two evils forcing them to fight, die, or go back the way they came.