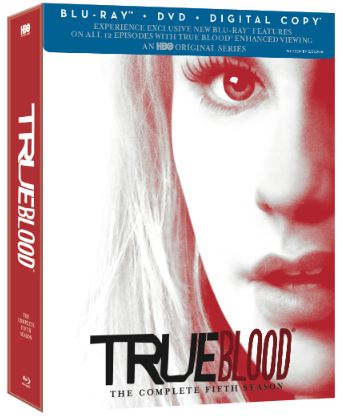 To celebrate the launch of True Blood: The Complete Fifth Season on DVD/Blu-ray with HBO Select, HBO Home Entertainment is inviting fans to "Fill In The Blood" for a chance to be part of a DVD virtual signing with stars Stephen Moyer (Bill Compton) and Kristin Bauer van Straten (Pam De Beaufort)!
Beginning yesterday and ending 5/17, the True Blood Twitter feed (@TrueBloodHBO) is hosting the "Psalms of Lilith" contest. Each day fans will be asked to fill in the missing words from a Psalm of Lilith (#fillintheblood) and the top ten submissions for each Psalm will win an autographed copy of the release. All of the winners will be announced the day after their tweet. The official micro-site for the contest is: www.fillintheblood.com .
At 12pm PST/3 pm EST on Tuesday May 21st, the title's street date, Moyer and Bauer van Straten will participate in a virtual signing live from Bill Compton's mansion on the True Blood set, during which they may read the winning tweets, sign DVD copies and answer submitted questions from fans (which can be submitted by any follower on @TrueBloodHBO ). The signing will stream live on a True Blood branded Ustream channel (link to view will be provided on www.fillintheblood.com  ). Winners will also receive a copy of their winning tweet on an old-world styled parchment as a keepsake, along with other prizes.