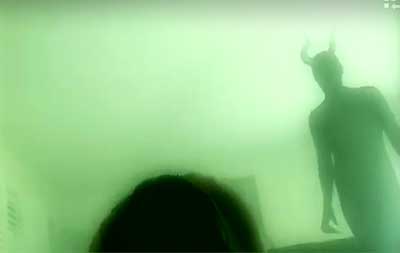 SYNOPSIS:
Two girls subject themselves to a discussion of horror movies, until they are interrupted by an unexpected guest. Quickly, the girls are exposed to a nightmarish world of terror.
REVIEW:
Nefarious is a 13 minute short film created by Brian Guardiola under Familiar Moon Cinema. It features Mackenzie Weimer as Erin, with Allison played by Shannon Burton. As the 2 of them take on an evening horror film, they discuss the ins and outs of showering during a like-horror scenario moment. It's not long before their friend Phil (Andrew Saldin) arrives dressed in a laboratory coat carrying his project for the night.
Soon we are lost in a phone call concerning a vile of blood to be inflicted on his test subjects so that they will become infected and therefore lost in a dream. Further dialog mentions a fema host and being animated within one's conscious….. but in short it all kind of passes overhead.As Allison is attacked and made to intake a dose of Phil's chocolate-looking devil potion, she becomes a zombie further infecting the others. While under, they dream within a moody atmospheric hue that fashions one ominous devil figure.
Nefarious, I wasn't sure if it was trying to cater more to horror or science fiction, but on whole danced around both. Knowing our viewers, I'm not sure many will really "get" the message here or what and why for that matter. On that note, the short "Nefarious" comes off a bit odd and maybe incomplete. I learned only thru some of the liner notes that it is intended to be of the Lovecraft fare, but I'm not sure others will make that connection. Lovecraft experiments are usually hit or miss due to their inherent abstract nature. "Nefarious" just ended up being more of a miss for me.
Film Review: Nefarious (short film) (2012)