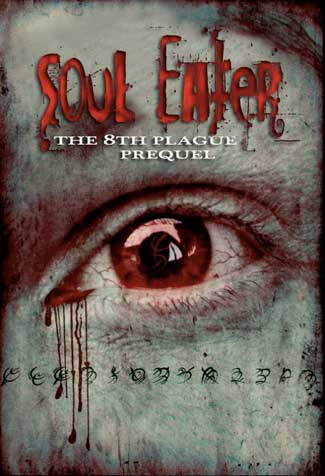 June is a Birthday month for Actor/Producer DJ Perry. He's starred in films in just about every genre out there from westerns to family fare. But this Michigan born actor remains true to his roots. The actor still calls Lansing, Michigan home citing his family, friends and soccer team among the reasons he stays in Michigan. The actor had humble begins in low budget horror films like "In the Woods," "Knight Chills" and even a Troma film "Outlaw Prophet". While some of those early films took heat for dialogue or sub par effects, the fans could see something special in this actor. His mainstream career started to blossom but he still came home to horror on a regular basis. He started to gain more respect in the genre with starring roles in films like the wickedly gory "The 8th Plague" and the slasher-film "GPS" that just finished a run on Chiller TV. Some may wonder why has he not turned his back on the genre.
"I personally enjoy the genre (Horror) in my own watching – and these fans have been with me since day one. They have followed my work in other genres – so I feel a need to give back to them." –DJ Perry
DJ Perry has a reputation for blazing blue eyes that shoot high intensity on-screen. He's played opposite such other intensity driven legends as Bill McKinney, known worldwide for his aggressive scenes with Ned Beatty in "Deliverance" and for stalking Clint Eastwood in "The Outlaw Josey Wales". McKinney played father to Perry's character in the Lionsgate released western "Dean Teaster's Ghost Town". Onset McKinney proclaimed, "That boy has got hell fire." DJ continues to get cast opposite dramatic powerhouses such as Wes Studi ("Miracle at Sage Creek") & James Russo (Upcoming "Benjamin") as Hollywood starts to discovery this low-key powerhouse.
"I like the mystery of not being over exposed – I don't want to be a celebrity as much as I want to be respected for the characters and the work." – DJ Perry
DJ has six new films heading out to audiences and of those three are in the horror genre. Robert Gwinn's feature directorial debut "Deadly Renovations" shows the dangers of greed and what murderous tendencies can follow millions of dollars. DJ stars as the leader of the renovation group. The film is releasing domestically on Aug. 7th, 2012 with Midnight Releasing. The distributor has just released the official DVD release cover. To see trailers and updates www.deadlyrenovations.com
The dark horror/thriller "Locked in a Room" by Detroit director Larry Simmons is currently booking mid-west theatricals with Rocky Mountain Pictures. The film is in discussions with several distributors who were intrigued by the originality and powerful suspense. The film is described as a descent into madness that once again follows greed as a theme this time between siblings. DJ plays a mysterious figure billed as "Mr. Creepy" and early audience viewings say he lives up to that name.
The third is a highly anticipated Philippine/US "found footage" movie entitled "Darkest Night" www.darkestnightmovie.com. The film is playing for select distributors at Dick Clark Productions on June 13th, 2012. DJ Perry plays the husband-to-be brought home to meet the Philippine family at Christmas time. Dark magic and evil replaces candy canes and jingle bells. This film will have a theatrical run in Asia and is also trying to arrange a theatrical opportunity here in the USA. The film will also be making a handful of festival appearances.
Perry's name is also attached to a horror/thriller entitled "Donors" now in post-production. DJ Perry's production company Collective Development Inc. www.cdiproductions.com recently announced they are very close to a green light on "Soul Eater", a stand-alone prequel to popular "The 8th Plague". This film tells what really happened at that dark prison all those years earlier when a cult leader was brought into the facility. DJ will once again play his role of the hardened prison guard "Mason". Actor Terry Jernigan (An Ordinary Killer, Wicked Spring) is said be reprising his role as "Deputy Buck". As for females, Hollywood exotic beauty Nadia Dawn has been attached in a co-starring role. It seems that despite DJ Perry's rising success in mainstream films he continues to come back home to his horror film roots.