There's something Up in the Air…ANCHOR BAY ENTERTAINMENT GAINS
ALTITUDE ON DVD AND BLU-RAY™
Taking Off on Blu-ray™ and DVD October 26th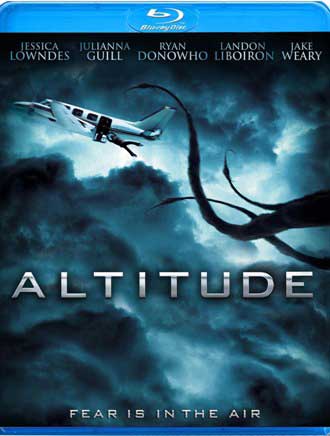 BEVERLY HILLS, CA – There's nothing like the rush of flying through the air, soaring through the clouds…and coming face-to-face with pure evil! A supernatural thriller that reaches new heights in terror, Anchor Bay Entertainment presents Altitude on Blu-ray™ and DVD October 26th. Produced by Escape Factory's Ian Birkett and directed by award-winning graphic artist and music video director Kaare Andrews (best known for his artwork on Spider-Man, The Incredible Hulk comics and the upcoming Astonishing X-Men), Altitude features a hot young cast headlined by Jessica Lowndes ("90210," The Haunting of Molly Hartley, "Greek") in this unique sci-fi/horror thriller that gives new meaning to "fear of flying!" SRP is a low $26.98 for the DVD, and $34.99 for the Blu-ray™. Pre-book is September 29th.
Altitude follows a group of teens on a weekend getaway aboard a small plane that suddenly turns deadly for the rookie pilot (Lowndes) and four young friends: Julianna Guill (Friday the 13th, "90210"), Ryan Donowho (Bandslam, "The O.C."), Landon Liboiron ("Degrassi: The Next Generation") and Jake Weary ("As the World Turns"). Minutes after the group takes-off, an unexplained malfunction sends the aircraft climbing out of control into the heart of a mysterious storm. Unable to get their bearings or contact the ground, the survivors gradually realize they are locked in combat with a terrifying supernatural force.
For more information, check out www.altitudemovie.com.
About Anchor Bay Entertainment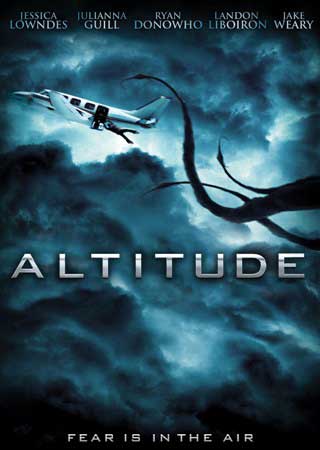 Anchor Bay Entertainment is the home entertainment division of Starz Media, LLC. It includes the Anchor Bay Films and Manga Entertainment brands. It distributes feature films, children's entertainment, fitness, TV series, documentaries, anime and other filmed entertainment on DVD and Blu-ray formats. It is the exclusive distributor in the U.S. of the theatrical titles from Overture Films. Headquartered in Beverly Hills, CA, Anchor Bay Entertainment has offices in Troy, MI, as well as Canada, the United Kingdom and Australia. Starz Media (www.starzmedia.com) is a controlled subsidiary of Liberty Media Corporation attributed to the Liberty Capital Group.
ALTITUDE BLU-RAY™
Street Date: October 26th, 2010
Pre-book: September 29th 2010
Cat. #: BD22191
UPC: 0 1313 22191-9 6
Run Time: 90 Minutes
Rating: R
SRP: $34.99
Format: Widescreen (2.40:1)
Audio: Dolby TrueHD 5.1
Subtitles: English SDH, Spanish
Bonus Features: Audio Commentary with Director Kaare Andrews;
Altitude: Behind The Scenes;
"Green Storm" featurette;
Original Concepts Gallery
ALTITUDE DVD
Street Date: October 26th, 2010
Pre-book: September 29th 2010
Cat. #: AF22186
UPC: 0 1313 22186-9 4
Run Time: 90 Minutes
Rating: R
SRP: $26.98
Format: Anamorphic Widescreen (2.40:1)
Audio: Dolby Digital 5.1
Subtitles: English SDH, Spanish
Bonus Features: Audio Commentary with Director Kaare Andrews;
Altitude: Behind The Scenes;
"Green Storm" featurette;
Original Concepts Gallery