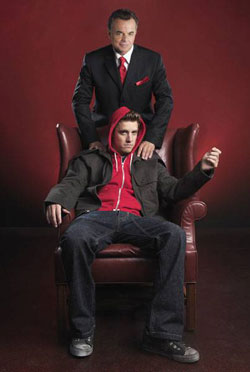 REVIEW:
Last year was a great season for television, in my opinion. Why? Because after injecting our lifeless bodies with way too much reality tv, I had almost given up on TV. I was talking about scripted TV like it was the "old days". And then out of nowhere, we were saved with at least a handful of decent TV and horror content driven to boot. With the exception of "Fear Itself" which we don't talk about any more, Reaper reigned as one of those killer new shows. The whole writers strike screwed stuff up for awhile but a few shows still hung in there.
Now on to Reaper, the best bet is to clarify with its posted synopsis and then move from there.

On his 21st birthday, lifelong slacker Sam (Bret Harrison) is confronted by Satan and forced to become a bounty hunter who captures souls escaped from hell. With the help of his clumsy friends, Sam takes on the challenge of sending evildoers back where they belong. Accustomed to a comfortable life playing video games and taking it easy, Sam quickly discovers that working for the devil is a frighteningly difficult job.
Now Reaper started off much like many shows of this nature. At first its mainly a demon a week kill, much like Millennium and a few others started. Though this round it's mixed without alot of likeable characters and some good campy humor. Most noticeable is actor Bert "Sock" Wysocki who is literally our TV Jack Black. He keeps a smile going on in even in the darkest of times. Sam Oliver (played by Bret Harrison) is our resident victim/hero/son of the devil kid of main focus who is dealing with not only fighting demons but trying to work up the nerve to get a date.
Andi Prendergast (played by Missy Peregrym) is Sam's co-worker and current girlfriend. Though not until after literally a season of beating around the bush and getting to it. She's charming, tough and I predict next years Maxim cover girl. Now lets not forget the Devil (played by Ray Wise)who after watching the show, you'll feel may just be that guy. Very convincible and likeable in a Satan-buddy kind of way. The show has alot of supporting characters that add to the fun as well that all make the show what it is.
For television, the CGI and FX work is top notch as any film release, nd it keeps getting better. This season we are introduced to a killer demon who happens to be gay and a weekly mix of bad guys who all have hell bound powers. If that doesn't hook ya then I don't know what will. Reaper is very entertaining and the story gets better by the episode. In fact, I'm willing to bet once you start watching you won't be able to hit eject till you've finished the whole season. Us Reaper fans are nipping at the bit in anticipation for next season. No need to go into every detail, except the plot thickens, the relationships bloom and new secrets are uncovered. Like any good series the writing has matured since the debut and keeps on pulling you in week to week.
If you need to look further into the background I suggest  Wikipedia, for a good read and update. Beyond that quit reading and just watch the damn show.
Do I recommend it, hell ya and then some. Some one punch Paris in the mouth for me and turn off that crap. Plop in some Reaper and ride the devil highway of good fun and demon ass kicking!! DO I need to say more…..