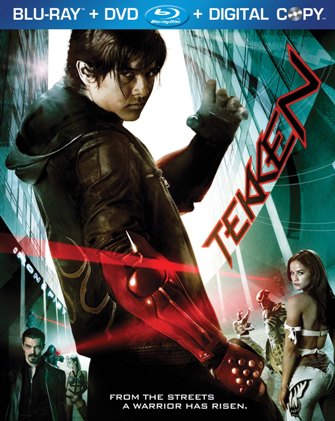 Available July 19th in Blu-ray™/DVD/Digital Copy Combo and DVD Editions
BEVERLY HILLS, CA – Ever since its premiere in 1994, the Tekken videogame has thrilled gamers and lovers of futuristic adventure across the entire world. With millions of games sold on such gaming platforms as PS3, Xbox360 and PSP, it seemed that Tekken would forever be confined to the limited graphics of gaming consoles. Until now…
The videogame of the future comes to full live-action life when Anchor Bay Films and Manga Entertainment release Tekken on July 19th. Directed by Dwight H. Little ( Bones, Halloween 4: The Return of Michael Myers), Tekken stars Jon Foo, Kelly Overton (The Ring Two), Cary-Hiroyuki Tagawa (Planet of the Apes, Pearl Harbor, Balls of Fury), Ian Anthony Dale (The Hangover, The Bucket List), Darrin DeWitt Henson (Stomp The Yard, Soul Food ), former world champion kick boxer Gary Daniels (The Expendables), MMA fighters Cung Le (Pandorum, Dragon Eyes), and Roger Huerta, Luke Goss (Hellboy II: The Golden Army, Blade II), and Tamlyn Tomita (The Day After Tomorrow, The Joy Luck Club.) A Crystal Sky Production, Tekken will be available as a Blu-ray™/DVD/Digital Copy™ combo for $39.99 SRP, as well as a standard DVD edition for $26.98 SRP. Pre-book is June 22.
The year is 2039. World wars have destroyed everything and territories are run by corporations, the mightiest – and cruelest — of which is Tekken. Jin Kazama (John Foo) witnesses the death of his mother Jun (Tomita) by Tekken in the slums known as Anvil. Vowing vengeance, and armed only with his street smarts and raw fighting skills, he enters a dangerous and potentially deadly combat tournament, where he must defeat the world's most elite fighters to become the King of the Iron Fist.
Tekken also features such fight superstars as Lateef Crowder, world-renowned expert in the Brazilian martial art Capoeira, and Anton Kasabov, multiple-time U.S., European and World Champion in Tae Kwon Do. Anticipation for Tekken's release has been high ever since the film's trailer was posted on YouTube in January 2010, with over 3.8M views to date!