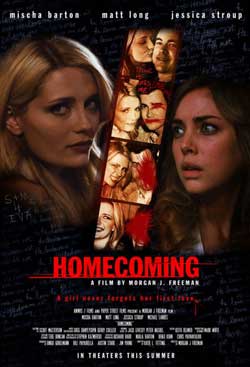 SYNOPSIS:
When Mike (Matt Long) returns to his hometown with his new girlfriend Elizabeth (Jessica Stroup), they are welcomed with open arms from everyone, except for Shelby (Mischa Barton) who still thinks she's Mike's true love. When Shelby tries to make a move on Mike, and finds out Mike has another girlfriend – she cracks. Shelby hits Elizabeth with a car one night, and holds her hostage in her home, as Mike looks for his girlfriend and tries to stop his ex from doing the unthinkable to her.
REVIEW:
A clever action packed thriller comes in the form of the new film directed by Morgan J. Freeman starring the lovely Mischa Barton as Shelby and alluring actress Jessica Stroup as Elizabeth Mitchum. Taking the role of the love interest caught in the middle comes actor Matt Long playing the role of Mike. If your trying to guess where you may have seen Mike before you might remember him as the young Johnny Blaze from the film Ghost Rider. Jessica you might remember as Cady, (Sam's love interest ) from the show Reaper (season 1) and Mischa has been making her rounds as a dynamic actress we'll be seeing more of. In fact with her recent "Walled In" we hope to see alot more of her in the horror genre scene.
Intrigued? Want to see "Homecoming" Trailer?
May contain some spoilers!
So with a title like Homecoming, it usually paints memories of old 80's slasher flicks featuring some form of axe wielding maniac and high school location. In this case while Homecoming will quickly drum up some similarities to a certain "Misery" it still is a great film on it's own terms. What do we have? An old girlfriend gone psycho, an intense thriller about lost love, a small town and opportunities on a silver platter. It also asks the question "how well do you really know some one – factor?".
To set the tone. Mike and Elizabeth set off to his home town of Mt. Bliss township to attend a "jersey retirement" celebration on homecoming weekend in his honor. Apparently Mike had quite a impact on the town especially in Football until he moved away and went off to college. Small towns like to honor great achievements, so Mike is the focus of the attention. Shelby, his former girlfriend still hammers through life running the local restaurant / tavern hangout while battling an outpouring of debts, responsibilities and past dreams.
With the arrival of Mike's return we learn that Shelby still has quite an attachment for him and hangs on that notion like it's yesterday. Mike who's moved on arrives with his new girlfriend Elizabeth who begins a an area of conflict to Shelby's intentions. Though all seems well as they meet and become quickly sociable. Cousin Billy (Michael Landes) is the town policeman who while somewhat jealous of Mike's success is still a good friend. While his interaction is kept to a minimum. its clear that what Mike had is what Billy wants.
Well after a night of too much alcohol Elizabeth decides to spend the night at a local hotel in fear of making a bad impression on his parents. The hotel being booked up leaves her with the choice of walking to the next local hotel on her own. Shelby not paying attention hits Elizabeth on the highway by accident and brings her back to her house to recuperate. As mentioned before, a simple act of kindness transforms into opportunity. Shelby not taking her new rejection very lightly begins a game involving disguising rehabilitation as kidnapping and building a facade of Elizabeth leaving town.
What transpires can be predicted but still does it in a way that's clever and calculated. If your like me you might be asking the same question of why would Mike ever forgo a hot take like Mischa Barton, however it's clear that all the screws aren't tightly wound and there's an inherit evil intention beneath the surface of our lovely Shelby. A mystery begins to set in, even after the facts are presented to Mike in a sensible way. It's only a matter of time before something gives and the walls come crashing down.
The film in short, provides a fully packed thrill ride that escalates into a game with purpose. Mischa is at her best playing the role of a psychotic old girlfriend that mirrors many other "girl gone wild" thriller films. For viewers, this film provides all your looking for in a perfect edge of your seat movie that rides out the thrills to the end. Whether you looking for a great date movie or just want to be kept glued to the storyline, you wont be disappointed in this intelligent production.