SYNOPSIS:
As a repo chick, wealthy bad-girl Pixxi and her entourage get mixed up in a devious kidnapping plot that threatens to wipe out the city of Los Angeles.
REVIEW:
Cult film master director Alex Cox brings in a new entry in cinematic wackiness, built on the foundation of his cult classic Repo Man. 2011 brings us Repo Girl. Though this film is by far its own invention. Loaded with new characters ripe with their own quirks. Repo Girl is filmed mostly in green screen with lavish backdrops, original locations and a off-kilter presentation that at times "feels" like a cartoon.
The film stars Jacyln Jonet as the dynamic focal point of the film..aka Repo Girl as Pixxi De la Chasse. Pixxi is part of the wealthy family De la Chasse, who despite owning much of the town are isolated in their own ideas and views on the world. Stating to be untouchable and above society they collectively decide that Pixie has had too many arrests for bad driving. As a consequence she is disinherited until she can prove that she has acquired a full time job and has experienced the humiliation of working for a living. Though Pixxi is much more clever as she and her band of punk rock misfit toys cruise about scheming a way to restore her wealth, fame and way of life. Pixxi's entourage include punk styled followers, Eggi, 666, and Savage who initially help her before being called out on a ploy to trick her into giving them money. It is the call to some local repo folks that changes her lifestyle and perspective on things.
She encounters Arizona Gray (Miguel Sandoval) and Aguas (Robert Beltran) a part of a local repo business whom she inquires for employment. Though to their surprise she actually is quite good at the job and manages to set a new standard of repo-ing for the team. After a successful repo run she is assigned to work with Lola who is played by Rosanna Arquette. Lola is an old school repo lady who looks as worn as she feels.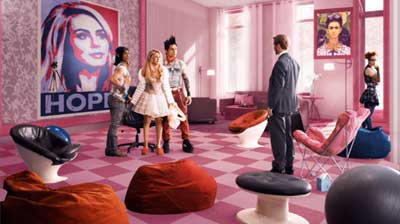 The work is not what Pixxi expected which entails more junk hauling than anything but in the course she becomes fascinated with a flyer boasting a 1 million reward for a rogue train that as become sort of an urban myth. The hunt leads to more wackiness that places Pixxi and her boy band partner aboard an elite train that ends up being a tool for political gain terrorism….namely the criminalization of golf courses and a cry for the president to become a vegetation. With a caboose full of lethal growler missiles it's a loony ride countdown as the train heads for downtown L.A. Meanwhile in the backdrop we have the government, Russians and covert operations all in the mix.
Repo Girl is fun, bizarre and cleverly orchestrated with an interesting cast and a personal touch of visual brilliance. While it arrives to us as a new release it still manages to hold a stylized sense of early 8o' appeal in its delivery. Jaclyn Jonet is a perfect match for the character of Pixxi which is surprising with this only being her 2nd film role. She has alot for fun taking to Pixxi like a seasoned veteran in a way that would make Reese Witherspoon proud. Other noted actors on board include Karen Black, Chloe Webb and Xander Berkeley. The films brings a welcome sister product to the 1984 cult hit "Repo Man". Hands down, it's a quirky little film to just have fun with and enjoy the ride.
Repo Chick is an instant cult addition for 2011
Repo Chick (2009)