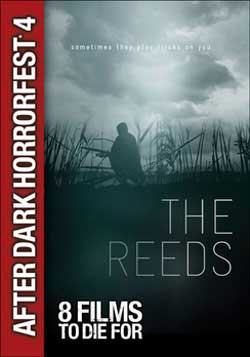 SYNOPSIS:
A weekend boating trip through the Norfolk Broads becomes a terrifying, deadly ordeal for six 20-something year old friends.
Aboard the Corsair Star, a small cruiser rented from the local marina operator, the boating party loses its bearings and cuts through the vast reedy tidewater in search of the main channel. After the first casualty by a freak accident, the boat runs aground.
Every effort to preserve themselves and find a way out fails, as one by one the friends are terrorized by young punks and killed by a hooded man with a gun. There is no escaping this vast waterway, a place of endless return, presided over by Croker who killed a group of young people decades before and initiated the hellish curse which traps all who take passage on the Corsair Star.
REVIEW: 
The Reeds represents one of the 2010 "8 Films to die For" from After Dark Films. While the film is probably one of the most obscure in terms of directional and storyline, I had a mixed feelings that seemed to evolve in different forms over the course of the movie. The Reeds are the waterways that go on for almost endless channels filled with reeds and a stream of nothingness. You might compare them in a sense to the swamps or everglades of Florida. Stop me if you heard this, a group of young adults head out on an excursion for a weekend of fun. Their destination? The Reeds channels of Norfolk Broads in which a boat ride plan is to end the night at a local pub.
Upon arrival, they discover that the boat that was reserved for them is damaged and needs repair. The Marina operator reluctantly volunteers the boat "Corsair Star" to honor their reservation. All seems well at first until they start to run across a serious of meetings with a local band of young punks. The group plays it off but the nature of these punks seems a bit odd even to these partygoers.
Running along with the story is a hooded man who seems to hunt these punks for reasons unknown. Eerie looks, sacrifices, hiding and reed play all sort of add to the obscurity of the strangers in the Reeds. Viewers will start to adjust uncomfortably as they try and put the pieces together in a spiral of events that make this film at first pretty compelling. I know by midpoint I was thinking, ya the writing is pretty decent with alot of variables though I hope the story has a purpose.
The boat gets lost, and becomes momentarily disabled as it hits a underwater pipe sticking out. Members become injured and more mystery evolves in moments that feel much like Twilight zone segments. Nick Cohen directs this piece which has alot going for it. Comparisons to a number of lost and boat driven horror films is un avoidable. Though for me, I was kind of let down by the 3rd act. We find out a few past moments that have culminated to now, though I'm guessing that others will feel the same way in that the reveals maybe should have been something else.
Acting is decent but not spectacular and the story feels like there was too many ideas that distract from maybe concentrating more on the suspense and less on plot circles. I think the cast was appropriate only enough to let them ride the story thru but never to the point of caring really where and what happens to the characters.
The location is perfect and should be re-used for a future movie with a different plot. The Reeds provide a desolate, cold, lonely and isolated feel that works just in themselves. Anyone who has taken rides thru these type of waterways know they can be a bit of a maze. I'm glad to see the location picked for a modern horror film. End result? The Reeds doesn't suck by any means but could have went different directions seeing that the location already had a ominous sense of gloom. I'm not sure that the public is ready for another boat and water movie but with careful planning it can win them over. The pros come in the form of a great first act that builds upon the gloomy atmosphere and a sense of framing to back that up. Not my favorite of the bunch, but just ok.
The UK Premiere of The Reeds will take place at 18.00 on Friday 29th October