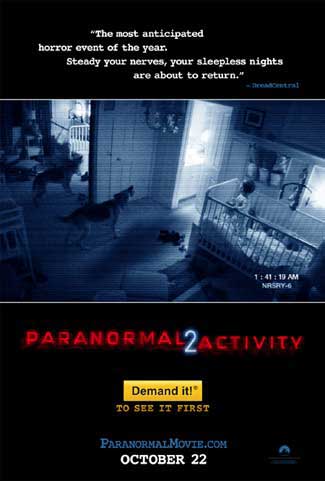 Paramount announced how YOU can see Paranormal Activity 2 first….
Paramount Pictures will debut PARANORMAL ACTIVITY 2 for the fans that "Demand" to see it first. The Demand it!® campaign launches at midnight tonight, and the first 20 cities with the highest "demands" for the movie will be invited to attend a free screening on Wednesday, October 20th at 11:59 pm, before the film's nationwide release.
"The support of the online community was phenomenal on the first film. We want to reward them for that support by offering them the chance to see it first," said Rob Moore, Vice Chairman of Paramount Pictures.
Dread Central is calling PARANORMAL ACTIVITY 2 "The most anticipated horror event of the year," and Bloody Disgusting states, "If the first one gave you nightmares, PARANORMAL ACTIVITY 2 looks to induce night terrors!"
"What is unique and exciting about PARANORMAL ACTIVITY is the depth of commitment from fans who 'demanded' to see it," said Adam Goodman, President of Paramount Film Group.
To "demand" PARANORMAL ACTIVITY 2, visit the official Paranormal Movie website: www.paranormalmovie.com/
The Demand it! campaign, which available to U.S. and Canadian residents aged 17 and older, ends at 11:59 pm on Wednesday, October 13th. The top 20 cities will be announced on Friday, October 15th. No purchase necessary.
Follow PARANORMAL ACTIVITY 2 on Twitter (@TweetYourScream) for more upcoming announcements.
PARANORMAL ACTIVITY 2 is produced by Jason Blum and Oren Peli with story by Michael R. Perry and screenplay by Michael R. Perry and Christopher Landon and is directed by Tod Williams.
Whatcha waitin' for! Get busy!