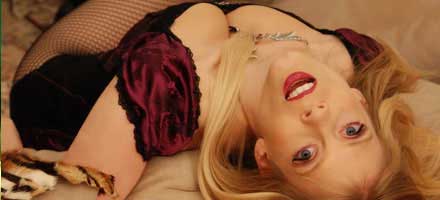 BIO:
Susan recently completed her first feature movie, Under the Raven's Wing, which was released on Halloween 2007 at the Full Moon Film Festival. It has also been accepted at the Fright Night Film Festival and the Dark Carnival Film Festival where she was also on a discussion panel for Women-in-Horror.
In both Under the Raven's Wing and her earlier featurette, Mavi Göz, her roles included: director, writer, producer, and editor. In Mavi Göz, she also played the lead character. Her most recent on-screen appearances include The Blood Shed, Prison of the Psychotic Damned, Sculpture, and cameo appearances in A Far Cry From Home and Pink Eye. Her past television performances include various comedic sketches on the television show, Steampipe Alley, with comedian, Mario Cantone. On her free time, she runs the networking groups, Mingle Mangle: Horror Filmmakers and Fans and Freaky Female Filmmakers. She received a BA degree in Broadcasting at Montclair State University and created an avant-garde short on 8mm film titled Illusion of Reality in an elective film class during her last semester. She has also studied performance art at HB (with the late hard-driving teacher,
Katherine Sergava), Weist-Barron, and The Upright Citizens Brigade for comic improvisation, all located in New York City. Currently, she is studying Egyptian and Gothique belly dance.
Website:
www.undertheravenswing.com
www.myspace.com/tinkfromheaven
www.youtube.com/user/AdriensenArts
Susan Adriensen – Actress | Scream Queen | Horror Vamp