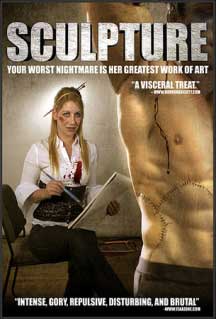 SYNOPSIS:
Sculpture is a psychological horror gore-fest that tells the story of Ashley Steele, an aspiring artist who returns home after the death of her father only to find the haunting memories of her repressed childhood await her. She is commissioned to create a life-size sculpture of the perfect man, and uses body builders from her brother's gym as models, but soon finds herself spiraling down a path of unspeakable psychopathic terror and murder as she frantically tries to complete her masterpiece.
REVIEW:Written by: Paul Quintero and Trevor Wright
Directed by: Pete Jacelone
Starring: Raine Brown, Misty Mundae, Dustin Kerns
QUICK FIX:
Ashley is back home for her father's funeral. Normally, it would be a time to grieve, mourn, or even celebrate someone's life after their death, right? Yeah, normally. But in this case, daddy was a sadistic, depraved, abusive assclown so no, Ash isn't too broken up about this whole thing. Want proof? Oakley doakley diddly – many years ago, he beat the sh*t out of his wife in front of Ashley when he caught her painting the image of a nude male model. Oh, and he also would sneak into little Ashley's bedroom at night and have his way with her. Nice guy, huh? Think his daughter grew up a little emotionally scarred? A tad bit f*cked up? Duh…
Soon after the funeral, she takes a gig working for her brother at his gym, but also wants to get back into the artistic nature that her and her mother shared. When her brother starts to display the old possessive nature of daddy, Ashley starts feeling the same way she did as a child. When the sh*t hits the fan and she finally snaps, she goes about collecting live parts, PIECES-style, for her perfect work of art by luring the buff dudes from her brother's gym back to her place in order to put the finishing touches on her masterpiece.
RAMBLINGS:
I don't say this about blondes very often, but great googlymoogly, I loves me some Raine Brown!!! I've watched this beautiful young lady work her way up the indie horror ranks for years, from bit parts to full-on leading lady, and I've been enthralled with her beauty and talent from the beginning. Her acting improves greatly with each role, and while I haven't always enjoyed some of the movies I've seen her in, I always enjoy her performances. SCULPTURE is no exception, and it seems to me as if this is one of those roles that was just meant for her to throw herself into, heart and soul, and she portrays Ashley with a broken yet demented glee that had me smiling from start to finish.
I wish I could say the same for most of the rest of the cast – they come across as only slightly less wooden than Hayden Christiansen in…well, anything…but nonetheless it didn't take away from any of my enjoyment of this flick as it didn't bring Raine's performance down at all, which is fortunate for us because after all, this one's all about her. I know, there aren't many Kevin Spaceys or Judy Denchs in the indie acting world. That doesn't usually bother me, but I wouldn't be doing my job worth a sh*t if I didn't at least warn you…if stiff as a board line delivery ruins it for you, maybe you should look elsewhere. Or maybe you should just suck it up and enjoy a damn good horror flick that, thank the Horror Gods, isn't a big-budget remake. Yep, Imma go with the latter on this one, and you should too.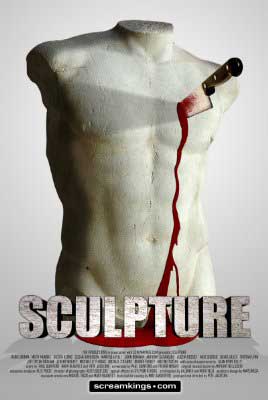 On a side note – we've got a smaller role with the luscious Misty Mundae that should be mentioned as an alternative selling point. For those in the know about her, you will not be disappointed…nude, coke-fueled sex scene? YES…SCORE!!!
LAST WORDS:
So if I weren't an online movie reviewer getting all kinds of horror flicks – from cheaply done indies to big-budget Hollyweird remakes – delivered to my mailbox for free on what sometimes seems like an overwhelming weekly basis and was just a regular dude looking for a darkly comic little indie flick with a plot, good writing, a gorgeous leading lady, and some juicy, squishy gore thrown in for good measure, would I want this in my DVD player as a rental or in my collection as a purchase? Hells yeah, I would!!