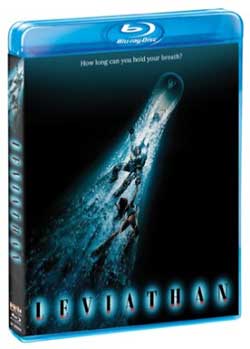 SCREAM FACTORY PRESENTS
A Film by George P. Cosmatos
LEVIATHAN
Starring Peter Weller, Richard Crenna, Amanda Pays, Daniel Stern, Ernie Hudson,
Michael Carmine, Lisa Eilbacher and Hector Elizondo
DELIVERING THE TRUE MEANING OF UNDERWATER TERROR,
COLLECTIBLE BLU-RAY™ RISES ON HOME ENTERTAINMENT SHELVES AUGUST 19, 2014
Five miles beneath the ocean surface, a crew of underwater miners stumbled upon a haunting secret. What they uncovered will strike terror into our hearts! On August 19, 2014, the long-awaited deep-sea sci-fi creature thriller LEVIATHAN, a film by George P. Cosmatos (Rambo: First Blood Part II, Cobra) finally unleashes on Blu-ray™ for the first time from SCREAM FACTORY™. Starring Peter Weller (Robocop), Richard Crenna (First Blood), Amanda Pays (Max Headroom), Daniel Stern (Home Alone), Ernie Hudson (Ghostbusters), Michael Carmine (*Batteries Not Included), Lisa Eilbacher (Beverly Hills Cop) and Hector Elizondo (The Celestine Prophecy), LEVIATHAN features a solid script by veteran screenwriters David Peoples (Blade Runner) and Jeb Stuart (Die Hard, The Fugitive) and amazing creature effects by Stan Winston (Aliens, Predator, Terminator 2, Jurassic Park). Packed with terrifying suspense and creature action, this definitive Blu-ray™ edition is a must-have for sci-fi creature thriller enthusiasts and movie collectors to complete their entertainment library. ($24.97 SRP)
Pre-order is available now at:
www.shoutfactory.com/product/leviathan
www.amazon.com/Leviathan-Blu-ray-Peter-Weller/dp/B00JHH21C2/ref=sr_1_1?ie=UTF8&qid=1401322273&sr=8-1&keywords=Leviathan+Blu-ray
On the dark and forbidding ocean floor, the crew of a deep-sea mission rig discovers a sunken freighter that harbors a deadly secret: a genetic experiment gone horribly wrong. With a storm raging on the surface and no hope of rescue, the captain and his team are propelled into a spine-tingling battle for survival against the ultimate foe – a hideous monster that cannot die…and lives to kill!
METRO-GOLDWYN-MAYER and LUIGI & AURELIO DE LAURENTIIS Presents
A GORDON COMPANY PRODUCTION A GEORGE P. COSMATOS FILM "LEVIATHAN"
PETER WELLER, RICHARD CRENNA, AMANDA PAYS, DANIEL STERN, ERNIE HUDSON,
MICHAEL CARMINE, LISA EILBACHER and HECTOR ELIZONDO
Music by JERRY GOLDSMITH, Edited by ROBERTO SILVI and JOHN F. BURNETT, A.C.E.
Executive Producers LAWRENCE GORDON and CHARLES GORDON
Story by DAVID PEOPLES, Screenplay by DAVID PEOPLES and JEB STUART
Produced by LUIGI and AURELIO DE LAURENTIIS, Directed by GEORGE P. COSMATOS
LEVIATHAN
Blu-ray™ Special Features:
New Interviews with actors Hector Elizondo, Ernie Hudson and creature effects artists Alec Gillis and Tom Woodruff Jr.
Theatrical Trailer
1080p High-Definition Widescreen (2.35:1)/DTS-HD Master Audio Stereo /1989/Color/98 minutes/R