CHILLER, the all genre station run by NBC has really gotten into producing original works over the last few years. This weekend they premiered BENEATH, their "kids stuck on a boat with a killer fish after them" flick and they seem to be sticking with the formula with their next project titled ANIMAL.
Starring Keke Palmer, Joey Lauren Adams, Elizabeth Gillies, Parker Young, Jeremy Sumpter, and Paul Iacono ANIMAL will tell the tale of a group of close-knit friends who find themselves stranded in unfamiliar territory, pursued by a menacing, bloodthirsty predator. Holed up in an isolated cabin, tensions mount as long-buried secrets are revealed. As the body count rises, the group must put their differences aside and fight for survival.
Here's the first pic of the gang together: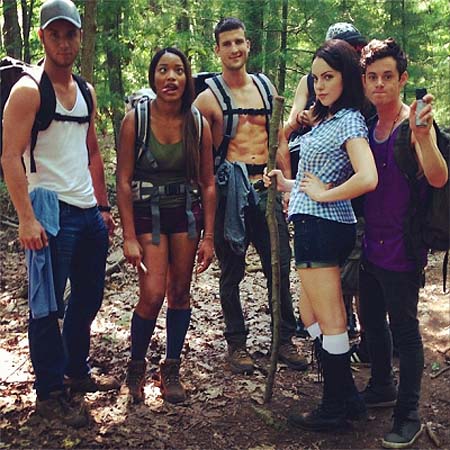 Drew Berrymore has her fingers in this one as an Executive Producer and FX wizard Gary J. Tunnicliffe is handling the creature FX so we are good to go in that department.
One other pic showed up, here's the cabin that the gang finds themselves stranded in.
No word on when we'll be seeing this one but filming is under way so I suspect I'll have more info soon.
Source: Dread Central