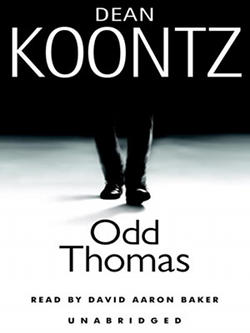 One of the most popular series of horror novels out there are Dean Koontz's ODD THOMAS works. Forever ago it was reported that Stephen Sommers was helming a big budget adaptation of the popular series and then it just kind of vanished. Well, it turns out that major legal woes have been and continue to plague the project.
THR got the scoop:
The producers of Odd Thomas are suing several entities, alleging that they failed to provide [a shocking] $35 million that would have gone toward marketing and distributing the movie and paying back production loans. Two Out of Ten Prods., known at TOOT, and Fusion Films filed their lawsuit Monday in Los Angeles Superior Court, naming as defendants Outsource Media Group Fund, ABS Investment Group, individuals Craig Chang and Mark Bishop, and Outsource Media Group. The latter, referred to as OMG in the lawsuit, is run by principals Bradley Holmes, Dan Reardon, and Harrison Kordestani, an executive producer of lower-budget horrors and thrillers such as The Coffin, Already Dead, In a Dark Place and Intervention.
According to TOOT and Fusion, OMG pledged to spend $25 million on prints and advertising to support a release of Odd Thomas in the U.S. and another $10 million to partially refinance certain loans. Several deadlines came and went, but most of the money never materialized, according to the lawsuit, filed by the Law Offices of Alan S. Gutman in Beverly Hills.
The lawsuit alleges that when money was promised but did not arrive, "substantial problems with the distribution of the film and with the plaintiff's existing investors and international distributors" arose.
TOOT and Fusion are suing for compensatory damages, punitive damages, attorneys' fees, costs of the suit and other relief.
The film stars Anton Yelchin, Addison Timlin, Willem Dafoe, Patton Oswalt, Curtis James Jackson III aka 50 Cent, Gugu Mbatha-Raw, and Nico Tortorella.
Yeah, that sounds all bad. No word on how long it may take to work it all out and when if ever we get to see the final project. I'll update you as events warrant.
Source: The Hollywood Reporter