MJ: Tell us about your association with Scream HQ?
LB: We are more then just work colleagues, we are fabulous friends and 2nd family. I got my start with them acting in The Slaughter and there was instant creative chemistry. Soon thereafter we formed Scream HQ, and made Zombie Strippers. Now we are moving forward with a number of horror films that I will be a producer on and or acting in.
MJ: What was your favorite part of filming Zombie Strippers?
LB: I really got into the character of Sassy Sue. It was a lot of fun
preparing to be a zombie stripper killer. The entire Z Squad did boot camp training and practiced fight choreography. I really loved feeling strong and tough.and shooting big guns!
MJ: You were both actress and associate producer on Zombie Strippers, was it hard to juggle both?
LB: Well, it certainly kept me busy, but I loved every minuet of it! It's a
great honor to make films from both sides of the camera.
MJ: How was it to work with Robert Englund & Jenna Jameson?
LB: Amazing. Robert Englund was so sweet and friendly. He would make conversation with everyone from background talent to studio execs. Jenna was a real professional and the sexiest dancer one could ever imagine.
MJ: Do you have any cool behind the scenes stories from The Slaughter or Zombie Strippers?
LB: During the scene in The Slaughter where I am held underwater by the she demon I was actually drowning myself. I had to wear these monster gloves and shove my own face underwater. It was pretty funny. There are many outtakes of me cracking up on the DVD bonuses.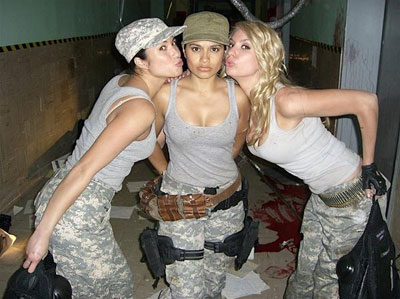 MJ: What is the most embarrassing thing to happened to you on the set of a movie?
LB: There were a couple of awkward moments practicing the scene in Zombie Strippers when my shirt gets ripped off, but most of my embarrassing moments were laughed away because everyone on set had a great sense of humor.
MJ: What would you say was your favorite Zombie film?
LB: Besides Zombie Strippers..Night of the Living Dead and Shawn of the Dead.
MJ: What do you absolutely love about working in the horror industry?
LB: It's a great platform to make political and social statements in an
artistic and fun manner. Also, of course I think we have the best fans they are so loyal and intelligent but don't take things too seriously.
MJ: Do you have a costume for Halloween?
LB: Yes, I am a stripping Sarah Palin! I already have the wig and costume from the music video I was in and produced with Scream HQ called America by Roxy Saint (Roxy played Lilith in Zombie Strippers) You can catch the video on youtube at: www.youtube.com/watch?v=xhilzT9pIzQ
MJ: Who would win in a fight, Freddy Krueger or Michael Myers?
LB: Well I know Robert and I would like to work with him again, so Freddy of course!
MJ: Congratulations on becoming a HORRORNEWS.NET Horror Vamp, what could possibly be next for Laura Bach?
LB: Keep your eyes peeled because I'm collaborating with Jay Lee and the team again for a really great flick called Scream Queens. I will be playing the part of an up and coming Scream Queen. Hopefully art will imitate life and you will see me in many more!
Interview: Laura Bach (Zombie Strippers, The Slaughter)