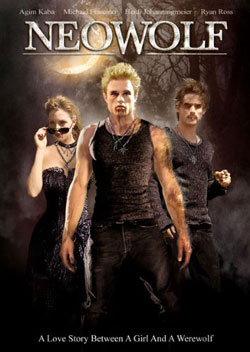 SYNOPSIS:
When an aspiring rock musician TONY returns to his college town to make up with his estranged girlfriend ROSEMARY, he finds his life taking an unexpected turn to the dark side when he encounters a mysterious rock band NEOWOLF led by rocker VINCE and the alluring band girl PAULA. When Rosemary's best friend KEVIN turns up dead, Rosemary seeks out a Nursery owner MRS. BELAKOV who knows the secrets of an ancient evil.
REVIEW:
Usually titles with the word Neo in them spell trouble for me a viewer. I'm not sure if I'm expecting some one from the Matrix to pop out or maybe its just a hip word used by the filmmaker to appeal to a younger cyber generation. Well my friends…Neo actually stands for: "Neo is a prefix signaling a "new" form or a revival of an old one.". So in this case I'm assuming we mean new types of wolves??? Though lets be honest here…..the film is catering to the Twilight generation with a take on werewolves, young models and slick dialog.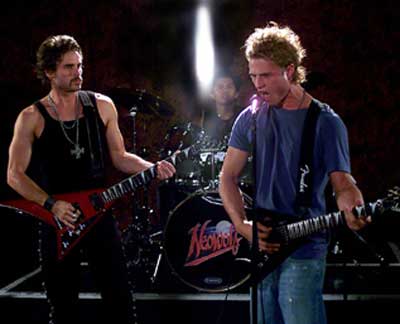 The tag line "The Band from Hell" though caught my attention. Yep it's a music movie, and there's werewolves (or such). Now before getting straight into the plot, I must say I was really digging the music and songs used in this film. So I had to do a little digging to see what was available…wallah.. here is a link to the performers and music info www.neowolfthemovie.com/  Pretty hot stuff. Additional music is provided by GO BETTY GO and SIGNAL. All of which I thought was appropriate for plop-in-car listening. If you don't end up liking the film, you may still walk away a fan of the music. Favorite tracks for me include "Runaway" by "Go Betty Go", "ONE OF A KIND" and "HUNGER BY NIGHT" by Jonathan Clark.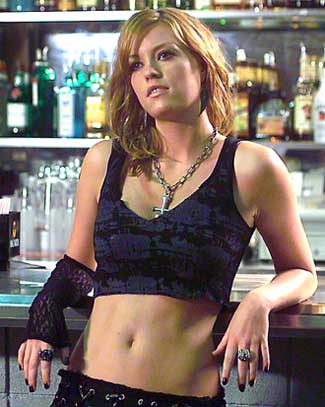 The movie has Tony (Michael Frascino) returning back to his home town after a jaunt with chasing his dreams a bit and playing with bands….or something of that nature. His primary motivation all lies within re-hooking up with his old girlfriend Rosemary (Heidi Johanningmeier). Rosemary is reluctant but with the help of her gay friend Kevin, Tony is able to win her back over with song and romance. Now, if that isn't a struggle enough then enter in bar band and foreigner tour de force Neo Wolf… a dark and mysterious group who's purpose appears to be more diabolical right from the start than just churning out metal power chords.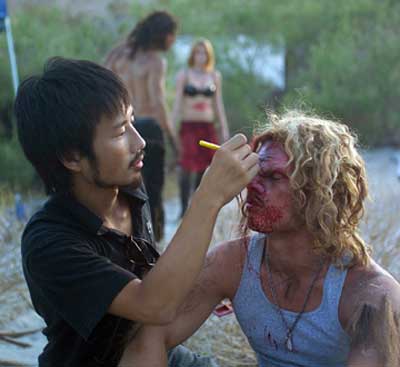 The band led by front man Vince along with his sidekick and she-devil temptress Paula are pretty comfortable in their shoes. Whether that is heckling the locals or just partying every chance they get all is blanketed in a ominous dark shroud. Rosemary begins to suspect things upon putting the pieces together in her theory class and Tony's sudden chance of character. Tony impresses the band enough that they want him as part of the act and so a few struggles begin to play out. When tony finds out what they are he is faced with feeding to turn over as a full werewolf or keeping his old life in tact with Rosemary.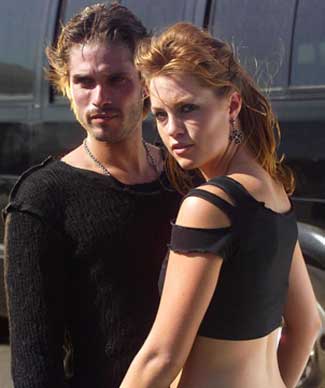 Even with all the obvious call outs on this film I rather enjoyed it. Clique's? maybe? Though the film stands pretty strong as a great rock & roll film with some tasty werewolf action.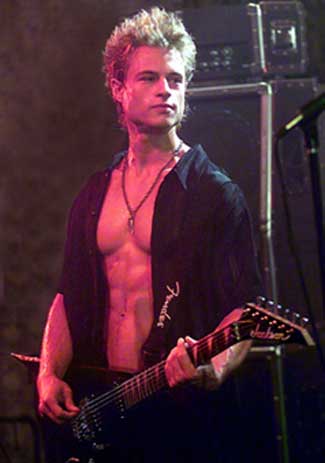 I did take the time to see what other reviewers were saying about this one, and despite the negative reviews…I thought this one was essentially a slick little film. I was more reminded of Lost Boys than Twilight but its hard not to make the comparison with the flow of todays trends. Actress Tiffany Shepis has a small role in the film as a groupie but still stands strong with doing what she does best. I didn't recognize many of the actors who I'm assuming were picked more for their looks than anything. So despite some of the reviews out there I think this one is pretty entertaining. Yvan Gauthier directs this film who hasn't had much background in the horror field. It sets out to do what it intended and I think that's maybe what fans of this trend genre will appreciate.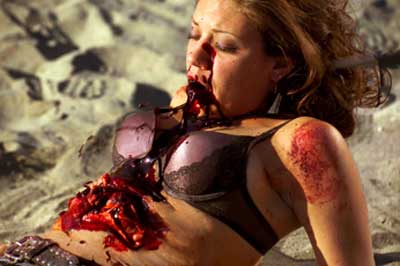 NeoWolf (2010)