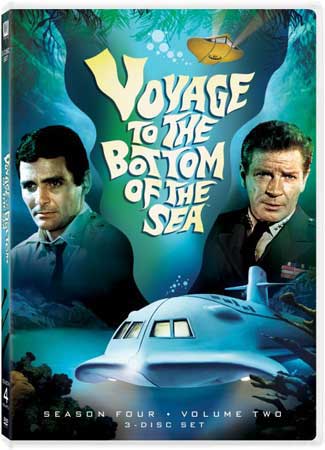 SUBMARINE MISSION DIRECTIVE 1.11.11
Attention. Admiral Nelson, Commander Crane and the crew of the nuclear submarine, Seaview.
Mission. To conduct classified undersea marine research.
Responsibilities. To defend the planet from world and extraterrestrial threats.
Possible threats. Pirates, extra-terrestrials, paranormal adversaries, time-travelers.
Additional mission intelligence.
Set a course for action and imagination in the final volume of Voyage to the Bottom of the Sea, Irwin Allen's brilliant science fiction classic. Dive into a world of wonder as Admiral Nelson, Commander Crane, and the crew of the Seaview embark on thirteen of their deadliest adventures and face some of their most memorable villains- from Blackbeard the pirate and a malevolent leprechaun to an abominable snowman and the unexpected reappearance of a mysterious time-traveler. Climb aboard the world's mightiest nuclear submarine and re-live some of the greatest moments from one of the greatest science fiction shows of all time…full speed ahead!
Available assets.
● Exclusive DVD extras including original un-aired pilot, original 1964 aired pilot with original broadcast commercials, still gallery
● 3-Disc DVD SRP: $39.98 US / $54.98 CAN
● Runtime: 663 minutes
● MPAA Rating: Not Rated
● Aspect Ratio: Widescreen 1.33:1