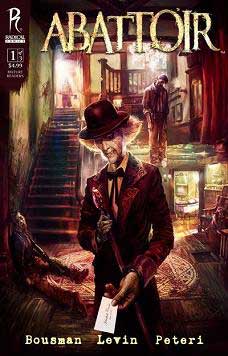 Radical Publishing has really stepped up to the plate with bringing us cool, well illustrated comics that are clearly meant for an adult audience pushing the envelope for graphics novels. Abattoir is one such of the new lines htat I've been anticipating for quite some time. This issue is the first of a 6 series edition, so you can bet there is alot of carnage that lies ahead. Bonus points come in the way of SAW director contributor Darren Bousman who combines his ideas with a great team of illustrators and story writers. As noted on the cover, this includes Leve, Peteri, and Cansino.
So is it odd that movie influence has crossed into the comic realms? I'm actually glad to see the collaboration. after all, comics are mini stories that can stretch its content in any form or fashion it desires. Abattoir which translates into slaughterhouse starts off it's story with a brutal bang. The Mitchell family didn't see it coming when Jay Mitchell snaps into a bloody rampage killing everything in site. It's his son Andy's birthday and for some odd reason, the mundane and civil begins to creep into his dark psyche resulting into a unpredicted killing spree. The once cheerful birthday celebration is transformed into a massacre. The event leaves a dark spot among the locals. Though business is business as usual as the house is put up for sale.
Richard, a real estate agent is trying to make ends meet in a blown economy. He has also been stuck with trying to sell the Mitchell estate. As friends and family go about the drams of there own lives, its a unexpected visit from an odd older man who calls himself Jebediah Crone that brings an unexpected edge to the whole affair. It appears that Jebediah wants the house immediately and will pay extra for it. A anxious boss, a needy client and a real estate agent with his own issues starts of the series with an air of brooding curiosity. So far, so good, this looks to be a standout series that should escalate nicely over the course of 6 issues. killer art, killer paint work with some hardcore adult content.