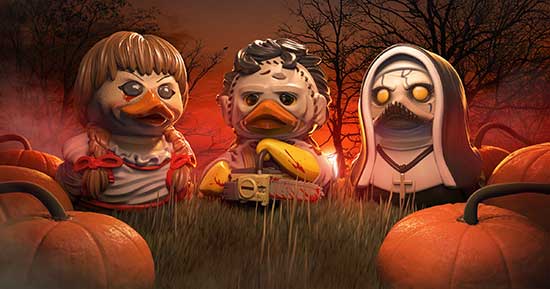 Look behind you!
A trio of NEW Horror TUBBZ are on their way
All the TUBBZ cosplaying ducks in the duckpond are about to be scared out of their wits when this terrifying trio arrive and upset the peace and harmony!  They've timed their entrance to perfection, all arriving together to put maximum fear into their pond-mates. The good news is they are limited edition, 3000 of each and when they're gone, they're gone, phew, thank goodness for that!
The other ducks might not be so keen, but horror fans are going to love these characters from these blood-curdling movies: The Nun, Annabelle and The Texas Chainsaw Massacre. Don't be fooled by these collectible ducks, every gruesome detail is captured to make them as creepy as ever.
Leatherface – paddle for your lives and leave Texas immediately, this maniac is wielding his chainsaw and looking to add to his horrifying mask!
Annabelle – the hair bunches may look cute, but those evil eyes are on you, run run run!
The Nun – she's wearing a habit and the cross is around her neck, but this is all a disguise, this Nun is absolutely demonic with her 'glow in the dark' eyes.
Not for the faint-hearted, these 3 maniacs join other horror TUBBZ including Dracula, Werewolf, Frankenstein's Creature, The Mummy, Chucky, Gremlin's Stripe, David & Michael: The Lost Boys, Beetlejuice, Pennywise and Regan (The Exorcist).  Stop hiding behind the sofa and collect them all, there are now 14 in total.
Official licensed merchandise
Designed and engineered by Numskull Designs
Limited edition, 3000 of each of these 3 new characters available
TUBBZ – your favourite video game, movie, TV show, and comic book characters come to
life as cosplaying ducks
Collect them all, 14 characters to collect in the Horror TUBBZ range.
Display box – comes in a collector's bathtub display box, featuring the relevant movie
logo and the ability to stack on top of other TUBBZ.
Premium collectibles – highly detailed features and made from high quality PVC.
Approximately 9cm (3.54") tall when outside of tub display stand (some may vary).
TUBBZ, cosplaying duck figurines, are replicas of characters from popular movie, video games, tv shows and comic books. They are highly collectable with all TUBBZ coming in their own tub featuring the movie logo and can easily stack on top of other TUBBZ making it easy to display collections.  Other brands to collect include Jurassic Park, Lord of the Rings, Friends, Star Trek, Back to the Future, Jaws, Stranger Things, Hatsune Miku, DC Comics, Knight Rider, Where's Wally, Rocky, Minions, Resident Evil, SEGA.