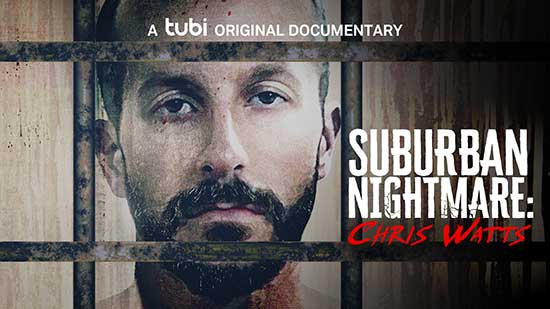 TUBI'S LATEST ORIGINAL,
"SUBURBAN NIGHTMARE: CHRIS WATTS,"
BEGINS STREAMING FOR FREE TODAY 
When Shannan Watts and her two young daughters disappear in August 2018, everyone looks for signs of trouble in the picture-perfect life she and her husband, Chris, prolifically projected through their social media. Any hope of a happy ending comes crashing down when the 33-year-old husband makes a shocking confession, admitting he strangled his pregnant wife and their two little girls before secretly disposing of their bodies at a remote work site.
Now, the Tubi two-hour special SUBURBAN NIGHTMARE: CHRIS WATTS explores this shocking, ripped-from-the-headlines true story in gripping detail. Supported by a trove of the Watts' own social media posts, news and archival materials, as well as a chorus of key voices with intimate knowledge of the case (the investigators who worked it, the journalists who covered it and the close friends who suffered the heartbreak), and buttressed by a cadre of expert insight (psychologists who can unpack the seemingly incomprehensible actions, and social media experts/influencers who can analyze the double-edged sword known as the internet), the true story behind one of the most unspeakable crimes ever committed is revealed. From FOX Alternative Entertainment and Streetcar Entertainment, the film is executive-produced by Robert Twilley ("Snapped") and Michael Welsh ("Drug Lords"), along with co-executive producer Maggie Mock ("Fresh Meat: Jeffrey Dahmer").
Official Facebook: @TubiTV
Official Twitter: @Tubi
Official Instagram: @Tubi