Lost for over a decade, the Old-School, Zombie
Horror Film DEAD END is back in post-production and
scheduled to premiere in the Summer of 2021
DEAD END stars Scream Queen Linnea Quigley (RETURN OF THE LIVING DEAD) in a lead role. It also co-stars Horror Icon Debbie Rochon, up and comer Julie Anne Prescott and talented young actors Jordan Wall (TV's THE PURGE), Bjorn Jiskoot, Jr. and Carrie Carnes.
This period piece, set in the early 1980's, DEAD END tells the story of four young people who find themselves trapped in a warehouse during the zombie apocalypse. There they also encounter a mysterious security guard (QUIGLEY) who seems to know quite a bit about zombies, almost as if she's seen them before.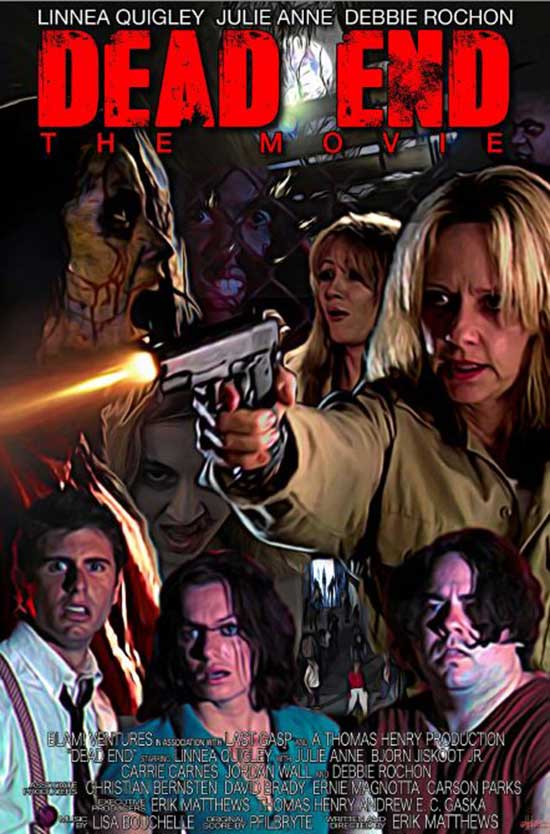 In this Thrilling ride, complete with Suspense, Murder, Twists, Blood and a lot of Zombies, can our four teens find an escape in this impossible Dead End Situation? DEAD END hearkens back to a time when zombie movies were scary, but also fun.
For more information or to see how you can get involved with the film please visit www.DeadEndMovie.com Director: Erik Matthews Executive Producers: Erik Matthews, Thomas Henry, Andrew E.C. Gaska