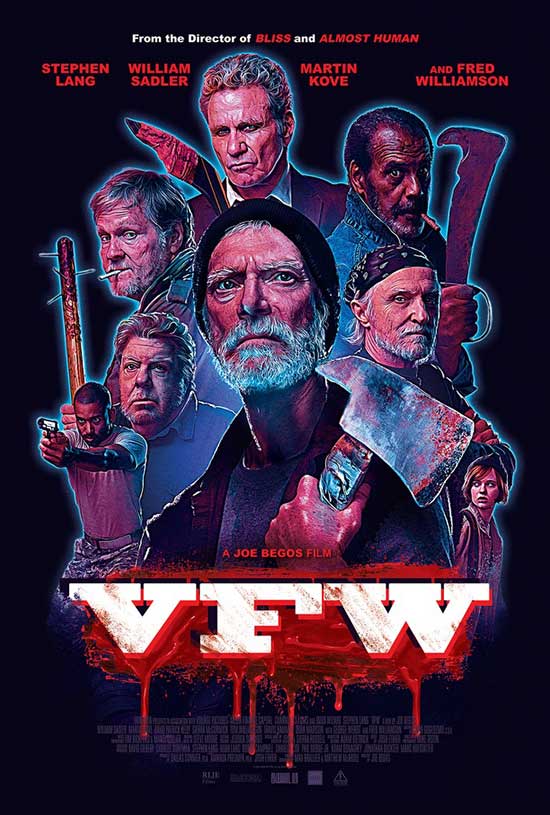 SYNOPSIS:
A typical night for a group of war veterans at the local VFW turns into an all-out battle for survival when a teenage girl runs into the bar with a bag of stolen drugs. Suddenly under attack from a gang of punk mutants looking to get back what's theirs – at any cost – the vets use every weapon they can put together to protect the girl and their VFW, in the biggest fight of their lives. 
REVIEW:
Directed by: Joe Begos
Written by: Max Brallier & Matthew McArdle
Cast: Stephen Lang, William Sadler, Martin Kove, David Patrick Kelly, Sierra McCormick, Tom Williamson, Travis Hammer, Dora Madison with George Wendt and Fred Williamson
Rated: Not Rated
FANGORIA presents & Channel 83 present VFW.  "As America's opioid crisis worsens, addicts turn to a new drug. Hylophedrine. Street name: Hype."
Boz (Travis Hammer, Ray Donovan, Godless) is chilling, he is not fazed by the tweakers surrounding him. Boz has big, conniving plans for the town and the people that are addicted to the drugs he is selling. He sends Lizard's sister off a bridge as she needed a hit.
This movie reminds you of some of the seventies' grindhouse movies. Max Brallier and Matthew McArdle did a great job with the writing.
We meet Veteran, Fred Parras (Stephen Lang, Tombstone, Don't Breathe). (Stephen Lang could narrate life in this voice.) Fred picks up Abe Hawkins (Fred Williamson, Mash, From Dusk Till Dawn). Fred and Abe talk a little bit about the drug crisis but, Abe wants to talk about Fred's Birthday which turns into an all-out chaotic brawl. Asleep in the back of Fred's pickup is Walter played so fantastically brilliant by William Sadler whose performance in The Grudge was perfect.
Stephen Lang is so good in his roles. He could play anybody and his performance in VFW is outstanding. This ensemble cast of actors is perfection. They have experience and you believe every word they are saying.
Joe Begos and his crew (Bliss, The Mind's Eye) outdid themselves again.  The buildings feel like characters too. The sort of dark realistic feel of being in an older bar. Boz's club has that sort of sleazy, you aren't quite sure if you should sit on the furniture?!
We meet the rest of these cats. Doug (David Patrick Kelly, The Warriors, The Crow) is the one with the joint in a joint. Thomas Zabinski (George Wendt, Cheers, Forever Young) aka Z. Lou (Martin Kove, The Karate Kid, Rambo: First Blood Part II), I am so happy to see Martin Kove in this movie with these guys. There is no social media, no telling anyone about this. These men are in the VFW Post 2494.
(Walter telling Fred he's got "shitty cigarettes" is something my grandfather who was in World War II, (mother's side) would have told someone.)
These are the guys that tell the best stories, they are funny and you can learn a thing or ten from them. A young soldier, Shawn (Tom Williamson, All Cheerleaders Die) walks into the post and drinks, listens to a story from Walter. No matter what the politics or whatever may be going on? All of these fought and Shawn is welcomed just like Fred welcomes Lizard. That sense of no matter what kind of hell they were in, they have a forever home with VFW Post 2494.
Lizard (Sierra McCormick, Medium, The Vast of Night) stole the drugs from Boz's safe. All hell breaks loose. Not the best idea but she has a reason. Dora Madison (Bliss) plays Gutter, she doesn't take shit. Lizard is on the run and running from everyone. She runs right into the VFW and the "hyper" people are following her. They made a fatal mistake. Fred winds up shooting the one dude who took a machete to Doug (David Patrick Kelly).
These guys have battled and they are ready for battle! The kills are brutal and hardcore. The special effects are great. Poor George Wendt's character gets killed. He just wants to get his car and get Doug to the hospital. The Hypers take him out. Vile, animalistic tweakers with speed. I love how calm Fred is. He doesn't lose his cool, he is a quick thinker and not scared. It is nice to see this in a movie. Walter wants to kick the girl out and Fred disagrees. They are fighters.
Gutter is giving Mad Max meets Cyborg and Vincent Klyn's Fender Tremolo vibes. Dora Madison plays this character with ease, a gritty vile character that will do whatever it takes to survive.
Fred makes it outside to his truck and Gutter smashes through his back window. Hypers show up from all angles. Walter saves Fred's ass with a cigarette hanging from his lips. Shawn earned the nickname dead eye for his shooting. "Gunshots are like crickets." They don't call the cops and Kreese comes out in Lou. Oh boy. There is no wax on, wax off for anyone. NO MERCY!
Boz wants to know where Roadie is and Boz also doesn't know what the VFW stands for? "Veterans of Foreign Wars" Gutter tells him. Roadie is Boz's little brother. Lizard tells the guys Boz killed her sister. So, she stole his stash which is his life. Lou finds the stash that Lizard hid in Fred's VFW bathroom.
They don't have enough weapons so they improvise. They dump a toolbox! They start making weapons. Homemade bombs, maces. You name it, they make it. Fred tells Lizard a little bit about Vietnam and the mud. Abe and Shawn share some banter, Lou and Walter both pick interesting objects to kick a** with. They not only made weapons but they utilize everything in the VFW as a weapon.
The large hoard of people banging the VFW doors cannot get them open so a big dude shows up.  He is bashing the door in and little does he know; these guys are ready.
Poor Doug wants to help despite his shoulders hanging off. Shawn stays and fights with the guys. People are ambushing the VFW and there are stabbings, shootings, small explosions. This movie is wild.
There is revenge, take back the neighborhood in the best way possible. Oh, now the big guy, Tank (Josh Ethier, Bliss, Gutter, Joe's Editor. Make sure to check out his work in the upcoming Gretel & Hansel) comes STOMPING in full force. Tank is beating the sh*t out of everybody. Lizard gets him in the jugular and Shawn brutally finishes what Lizard started. Tank is out.
The shots are great. You get up close and personal with the brutality. This movie is one of a kind and Joe Begos gave us this visually vivid, wildly fascinating movie that you cannot stop watching.
VFW is brutal, wild, bloody a massacre of what society doesn't talk about. It should be talked about.
Meanwhile, Boz can't figure out what is taking so long? Lou wants to negotiate. He's a car salesman who wants to negotiate with Boz. There was a moment… A moment, Lou took out a few guys. He winds up being shot by Boz. Fred also takes a bullet to the ankle. "F*ckin' Lou." I agree, Fred, I agree.
Fred is calm and losing it at the same time again. He gets somewhat of a pep talk from Lizard. Fred's back and he is in fighting mode. Boz also just unloaded a bunch of random weapons and things that look like they blow up, propane tanks and whatnot. Boz meets Fred through a hole in the wall. Fred gives him a nice calm, Colonel Kurtz's speech. Fred has an idea and "he's back." Boz and his people get into the VFW and both sides are ready to fight.
Boz wants to be "civil" and he talks a lot. Fred is done with Boz's bullsh*t and his speech about what the VFW was built on. Walter got a saw and is more than happy to use it. William Sadler is fantastic in this role. Abe gets to fight with Gutter. Fred Williamson and Dora Madison go head to head and fight. Now Boz gets Lizard, no one can catch a quick break.
Walter heads out to the military vehicle and he needs it to start. Shawn is helping him but Hypers are coming at them. These men are battered, bleeding and ruined. Will they quit? NO! Walter took a chainsaw to the shoulder; will that stop him? NO! THE TRUCK STARTS! (Yes, I was yelling. I was yelling at my screen!) Lizard gives Fred that quick flick for the lighter he needed. Boz is DONE! You root for these guys. You want them to be okay.
Travis Hammer was a worthy adversary. I loved that they used duct tape to fix Fred's leg. Fred and these guys are curmudgeons but they won this battle. What a way to spend a birthday! Fred winds up with some of Boz's supply left. He can fix up his VFW. This is a great movie so check out VFW.  
https://www.imdb.com/title/tt9894470/