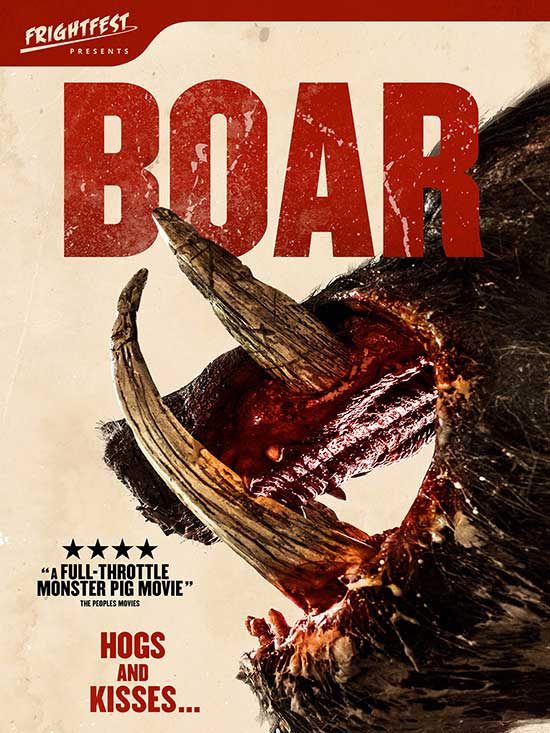 A giant pig runs amok in the outback in this bloody Ozploitation horror thriller featuring the stars of Wolf Creek, Mad Max and The Devil's Rejects.
Bill Moseley (The Devil's Rejects, Texas Chainsaw 2)
John Jarratt (Wolf Creek, Picnic at Hanging Rock)
Roger Ward (Mad Max, Turkey Shoot)
Steve Bisley (Mad Max, Chain Reaction)
Nathan Jones (Mad Max: Fury Road, Conan the Barbarian)
Chris Haywood (The Cars That Ate Paris)
Simone Buchanan (Patrick: Evil Awakens)
Chris Sun (Writer/director, Charlie's Farm)
In the harsh, yet beautiful Australian outback lives a beast, an animal of staggering size, with a ruthless, driving need for blood and destruction. It cares for none, defends its territory with brutal force, and kills with a raw, animalistic savagery unlike any have seen before.
Believed nothing more than a myth, a legend brought to life by a drunken hunter, the beast ventures closer to civilization. When the bodies of two of its most recent victims are discovered, it is up to a locals, and an out-of-town family caught in the carnage, to halt the creature in its tracks.
Director Chris Sun, the writer-director of the horror comedy Charlie's Farm, has assembled an awesome cast of genre film legends – Bill Moseley, who played Chop-Top in The Texas Chainsaw Massacre 2; the superb John Jarratt from the Wolf Creek films; Roger Ward and Steve Bisley, the cops from Ozploitation classic Mad Max; and the formidable former WWF star Nathan Jones, who played Rictus Erectus from Mad Max: Fury Road, who here gets to indulge in some no-nonsense boar-wrestling, as well as lip-synching to Vanilla Ice. Thrown into this macho mix are three Sheilas – erm, that is, women – including Simone Buchanan from Patrick: Evil Awakens – who prove more than a match for the men, and, for that matter, the killer pig.
Sun mixes a foul-mouthed, funny script with a superbly realised monster, stomach-turning gore effects, and a splendid amount of jump-out-of-your-seat boar attacks. A gritty and gruesome creature feature with a knockout cast, this is a Razorback for the 21st century, continuing the tradition of top-notch Aussie monster movies like Black Sheep and The Reef.