13. Time After Time (1979)
This movie makes the list even though it isn't really a horror movie. It isn't scary at all, actually, but the plot, while a bit cheesy at times, also contains a bit of genius, including its star Malcolm McDowell. Here's the deal: the notion of a serial killer is not a modern one. Jack the Ripper, while arguably the most famous serial killer, is not modern either.
The aim of this film is to bring the Leather Apron right into our world. What if Saucy Jack was alive today, and instead of killing the streetwalkers of Whitechapel, he stalked the streets of San Francisco? Add H. G. Wells, the author of The Time Machine (played by McDowell) and the machine itself—which actually works—and you have a great plot. How would Wells react to the same city, during a time which should have been, by his calculation, a utopia? Of course, for our purposes Wells is hunting down the Ripper who, back in the 1880's, was his best friend. It's corny, for sure, but spot-on in its social commentary. Did I mention it has Malcolm McDowell?

12. Chiefs (1983)
This is near the bottom of the list because it's almost completely unknown, as a TV miniseries, and not available on DVD. In that way, I feel like I'm cheating you guys. However, the book is magnificently creepy, well-written, and the concept is great: three generations of police chiefs go about their small town duties while a serial killer works within their midst. It also has an all-star cast, featuring Charlton Heston, Keith Carradine, Billy Dee Williams, and Danny Glover. Any movie about a serial killer with such a remarkable cast deserves a spot on this list.
11. The Riverman (2004)
When I graduate from college later this year, my degree will boast a double-minor, one of which is criminal justice. I pursued this area of study because my absolute favorite subject ever (aside from horror, of course) is criminal psychology. And of all the criminals I've studied, Ted Bundy is the most fascinatingly frightful, and the best book I ever read about him was called The Riverman: Ted Bundy and I Hunt for the Green River Killer by Dr. Robert Keppel. This A&E adaptation is the most accurate and faithful true crime movie I've ever seen. Side note: Cary Elwes looks too much like Bundy for his own good. Creeepy. It also inspired the next movie on this list, because Bundy consulted with the Seattle PD to help them catch who they later discovered was Gary Ridgeway.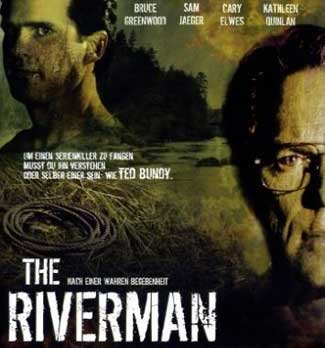 10. The Silence of the Lambs (1991)
I won't go on and on about this film, because we all know it's great. I will, however, say that this is the best Hannibal Lecter movie of the lot and that Ted Levine (Buffalo Bill) is one of the greatest character actors EVER. (Check out his work on the TV show Monk too.) And this movie has not one, but two serial killers. More bang for your buck!
9. Saw (2004)
Don't even debate me: those people did not kill themselves. They weren't investigated as a tragic grouping of suicides, now were they? Jigsaw was the one responsible. To date, he's claimed around 30 victims. And that makes him a serial killer. For my money, Saw was the best of the series.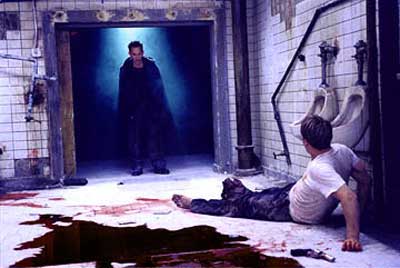 8. Suspect Zero (2004)
If you haven't seen this film, stop reading, go over to Netflix, and watch it. Then come back, and we'll talk. You can't deny that this movie has the most prolific serial killer of them all—and by that I mean the smartest, most ruthless, and most despicable. He was one nasty dude. And I don't mean Sir Ben Kingsley; he's just awesome.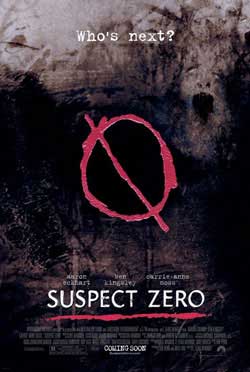 7. Frailty (2001)
Does killing for God give you the right to murder? How about only killing bad people? Combine the two and you have a delicious, double-whammy. Such is the case with Frailty, a movie about a family who receives a mission from God to remove demons from the world, directed by and starring Bill Paxton. Now, this plot is all well and good, but what if one of the family members doesn't believe and is certain his father is killing innocent people? And how far would a father go to make that son recognize the sanctity of their calling? Oh, the drama and blood that would follow. And, as with the questions this movie's plot poses, the answers presented are just as ambiguous as whether the mission is real.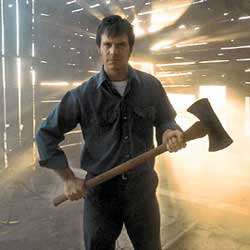 6. From Hell (2001)
Johnny Depp + Jack the Ripper = one awesome movie. Really, I only choose this because it's the best—and most horrific—portrayal of one of the most widely accepted Ripper theories. Indeed, Jack did "give birth to the 20th century." And there's a great sequence involving Johnny Depp in a bathtub.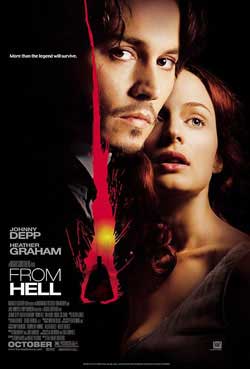 5. American Psycho (2000)
No, the original Psycho is not on my list. Why? Because poor Norman, while based on a pseudo-serial killer, is not a true serial killer. On the other hand, Patrick Bateman is. This movie is also about as all-American as a serial killer movie can get: '80s yuppie, in designer suit, murders anyone who bothers him, rivals him, or, really, anyone he comes across. What could be scarier than that? Oh yeah—the objectification, mutilation, and sexual exploitation of women. We've got that too. This film was also directed by Mary Harron, who, I think, is the only female to have directed a serial killer film.
4. Se7en (1995)
Six words for the seven deadly sins: Kevin Spacey as a serial killer.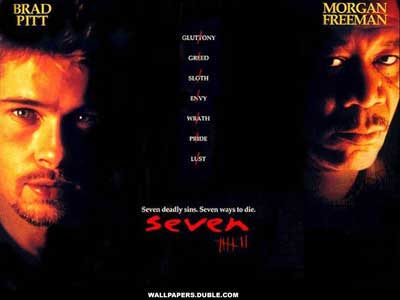 3. The Boston Strangler (1968)
Tony Curtis set the standard for all other modern serial killer films with truly amazing acting. It's moody, not entirely factual, but dramatically pleasing, and it puts self-identification with the killer right into the viewers' comfort zone, a good characteristic for any horror film.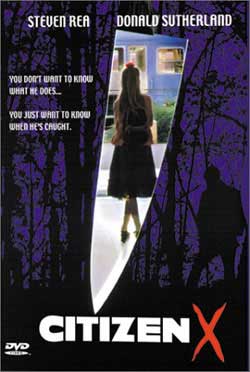 2. Citizen X (1995)
Andre Chikatilo was one nasty card-carrying socialist. Russia's worst serial killer, Chikatilo raped, mutilated, murdered and cannibalized 53 young women and children between 1978-1990. This film chronicles one detective's struggle to catch him under the repressive Communist government of the Soviet Union. Stephen Rea is superb as Lt. Viktor Burakov, and Donald Sutherland is superb as his superior, Col. Mikhail Fetisov. Oh, and Max von Sydow—the greatest horror actor, according to one of my previous lists—makes a smart cameo. What makes this film stand out is how beautifully it shows the bleakness of socialism, which invades the entire film. The subject matter is terrible—and shown in near-full detail—but the weather is also bleak, the color palette is drained, and the sense of loss the film carries gets under your skin while remaining fascinating and disturbing.

1. The Last Horror Movie (2003)
What makes this numero uno? It's insanely unique. There has never been a movie quite like this (no, Behind the Mask and Man Bites Dog are not like this film). No one is as well-spoken, intelligent, ruthless, good at what he does, and—dare I say it?—as good looking as Kevin Howarth as Max Parry. This film combines modern sensibilities and plot twists with the tried-and-true traditions of the standard serial killer movie. Plus, it seems real… all too real. Like maybe, just maybe, I should go check my doors and windows to make sure they're securely locked. Like maybe, just maybe, there will be a knock at the door and behind it, waiting, is Death.

Top 13 Greatest Serial Killer Movies