CHRIS HERO RETURNS TO CZW!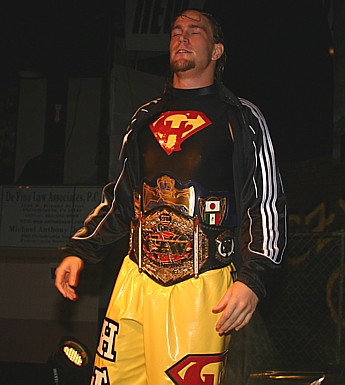 If you're a fan of the independent professional wrestling circuit, odds are you've heard of Chris Hero. Having traveled the world & capturing championships in major organizations like CZW, Ring of Honor, Chikara, & others, Hero signed a developmental deal with WWE in 2012. Rebranded as Kassius Ohno, it seemed Hero would follow in the footsteps of other colleagues on the independent circuit & carve out a legacy on the main WWE roster.
That all changed last week. To the shock of wrestling fans everywhere, both of mainstream & independent products, it was announced that Hero was released from his WWE developmental contract. Shortly thereafter, Hero began to announce where he would be appearing for the rest of the year. There was one date, however, that wrestling fans watched with great interest. Where would Chris Hero be appearing on December 14th?
We received our answer last night. DJ Hyde, owner of Combat Zone Wrestling, announced via his Twitter the news that CZW fans had been hoping for. On Saturday night, December 14th…Chris Hero will return to CZW to challenge Drew Gulak for the CZW World Heavyweight Championship at "Cage of Death XV"! The landscape of the Combat Zone has changed significantly over the past 3 years since Hero's last match in CZW (watch CZW "Lines in the Sand" to see the match). One fact, however, remains the same. The CZW World Heavyweight Championship is THE top prize in independent wrestling & Chris Hero will be bringing the fight to Gulak in what is certain to be a wrestling masterpiece. Will we see Hero become a 2x CZW World Heavyweight Champion, or will Drew Gulak emerge victorious in what is undoubtedly his biggest CZW match yet? Find out for yourself by attending the premier independent wrestling event of the year…CZW "Cage of Death XV"!
Tickets for the event at the Flyers Skate Zone in Voorhees, NJ are on sale now at our official online ticket store. It is STRONGLY recommended that you purchase tickets in advance. We have had to turn people away in the past & this year will be no exception. Pre-purchasing your ticket also gets you FREE admission into the fan-fest being held prior to the main show earlier in the afternoon. If you can't be there in person, enjoy CZW from the comfort of your own home by watching LIVE on iPPV at http://www.czwippv.com! Be sure to "Like" CZW on Facebook & join in on the discussion on Twitter @combatzone #CZW #COD15. in the spirit of the holidays, we are also asking that all fans attending "Cage of Death XV" support the Marine Toys For Tots Foundation by bringing a brand new, unwrapped toy with you to the show. Let's all do our part to help children less fortunate receive the gift of Christmas this year.
Chris Behringer
Combat Zone Wrestling, LLC
Promotions/Production
www.czwrestling.com
Follow me on Twitter @CZWchris
Why is HorrorNews.net following CZW Wrestling?  Stay tuned…