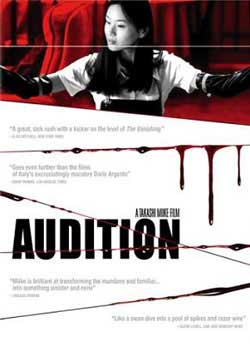 SYNOPSIS:
Director Takashi Miike fashions an explosive drama in Audition. Shigeharu Aoyama (Ryo Ishibashi) has lived as a widower for too long and decides it's time to marry again. But how will he find a wife? When a friend suggests he hold a fake audition to pick the right woman, he takes him up on it — only to realize that his choice may be a better actress than he bargained for.
REVIEW:
Director: Takashi Miike
Cast: Ryo Ishibashi, Eihi Shiina, Tetsu Sawaki, Miyuki Matsuda, Renji Ishibashi, Jun Junimura. Based on the Ryu Murakami novel.
The Examination Results: Sick and Twisted. Trust me. This aint no romantic comedy.
At first this movie may seem like your typical run of the mill boring ass romantic plotline. But keep your pants on because the lovey dovey crap soon turns into deep rooted visceral madness! The finale is so graphically violent that it makes Hannibal Lecter seem like a hand fed pony at a petting zoo.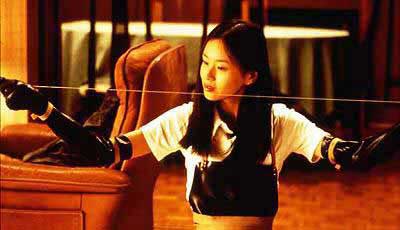 Aoyama (Ryo Ishibashi) is a Japanese executive and all around seemingly nice guy that tragically lost his wife to a long illness. Sadly, he's left to raise their young son (Tetsu Sawaki) alone. Fast forward to several years later, Aoyama is still unmarried and persuaded by his now teenage son to search for a new wife. Aoyama reluctantly agrees, but how will he find her? Wait! Hell enlist the help of his movie industry pal, Yoshikawa, and they come up with the perfect idea! They will produce a phony movie and audition actresses for the lead role, while giving Aoyama a covert opportunity to look for a new wife. Creative thinking if I may say so myself. Aoyama finds the perfect bride to be in Asami (Eihi Shiina), a young, beautiful, demure, seemingly well rounded former ballerina. The lovebirds soon develop a romantic relationship. But dont run out for sushi and buy your wedding gift yet. Asami introduces a dark bag of goodies, or shall I say dirty laundry bag.
Aoyama is oddly attracted to Asami. He is intrigued by everything about her and becomes smitten. They begin dating, everyones happy, shes everything hes ever wished for, Aoyama is in love. He proposes, they get married, happily ever after. Blah, blah blah. Sounds romantic, right? But lets remember who directed this film, Takashi Miike, the same guy who did Fudoh and Ichi the Killer. That being said, heres where it gets interesting.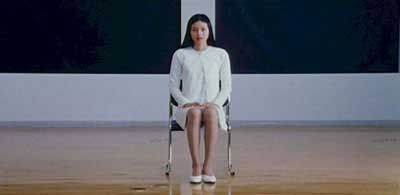 Asami discovers that the audition was a hoax, and the trouble begins. Asami sets strict and rigid rules and demands that Aoyama follow them, in addition to his family. He must love only her with no exceptions. When Asami suspects that he has broken her rule, she sadistically punishes him. Yummy!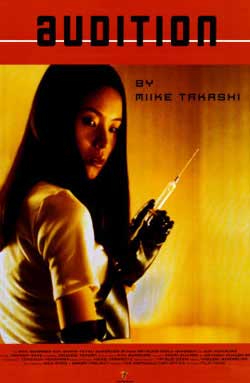 After Yoshikawa becomes leery,Aoyama begins to investigate and discovers Asamis dark secrets, uncovering clues one by one, and learning she is anything but graceful. And so the creation of madness begins, she has suffered horrific abuse by her foster parents, has lied about her past, and is possibly connected to a string of mysterious disappearances.
Despite all the warnings, Aoyama is too enamored to believe that she is flawed, essentially leading to his demise. But just as he starts to gather his senses, he learns of the all too real horrors of actual existence.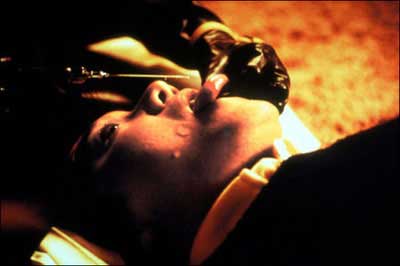 I wont ruin it for you, but Ill venture to say that the last segment of this film is a worthwhile horrifying payoff for a slow start. Its scary, haunting, and terrorizing! Director Takashi Miike definitely lives up to his movie making standards for violence, perversion, and graphic bloodshed.With this film, he manages to touch the dark subconscious of the human psyche.
Fair warning my fellow horror lovers, this film may leave you with a slightly psychotic imprint on your brain!
Audition (1999)