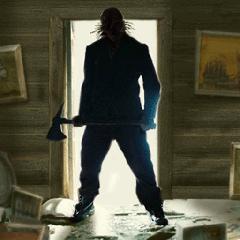 Independent Production Company Blood Red Films and it's premiere clothing sponsor DeadInk Apparel announce the exhibition of selected scenes at this year's HorrorHound Weekend: Cincinnati. The official teaser for the feature film, 'AXEMAN AT CUTTER'S CREEK'
[youtube]http://www.youtube.com/watch?v=-Gek8LgnN-g[/youtube]
'AXEMAN AT CUTTER'S CREEK' is an '80's style slasher film about nine vacationing twenty-somethings who are hunted down by an axe-wielding local legend.
Blood Red Films and DeadInk Apparel announced today that it has plans to showcase 17 minutes of selected scenes on Saturday, March 23rd at this year's HorrorHound Weekend: Cincinnati for it's hardcore fans and media.  The announcement was made today as a joint venture between Blood Red Film's Joston Theney (Director and Writer) and Dr. Christopher Otiko (Executive Producer and Contributing Writer), and DeadInk Apparel's Justin Haines, for 'AXEMAN AT CUTTER'S CREEK.'
"Unfortunately, I won't be at HorrorHound Weekend," said Dr. Christopher Otiko when asked of his attendance, "I decided to stay behind and see if I can hear the gasps and screams all the way from Los Angeles!"  Dr. Christopher Otiko found and ultimately Executive Produced AXEMAN AT CUTTER'S CREEK while contributing his literary skills to the script.  "This is a true return to '80s horror and what better place to premiere it than HorrorHound Weekend in Cincinnati?  We love the convention and the environment HorrorHound creates.  And this the perfect place to unleash the Axeman."
"I'll be there," Dylan Hobbs, one of the film's stars exclaimed.  "Are you crazy?  Hundreds of fans packed into a theater watching the most intense scenes from a horror flick that I'm a part of.  How could I miss that?"
Also on-hand will be stars Elissa Dowling, Chantelle Albers, Stephen Eith and the Axeman himself, former NBA superstar Scot Pollard.
"This movie is for the fans.  It always has been," said the film's writer/director and star Joston Theney.  "I make no qualms about it.  I love '80s slashers.  True '80s slashers and we delivered on this and I'm just so happy that the fans and the stars of the film will get a chance to enjoy it.  HorrorHound, here we come."
'AXEMAN AT CUTTER'S CREEK' stars Elissa Dowling, Tiffany Shepis, Brinke Stevens, Jamie Bernadette, Erin Marie Hogan and Arielle Brachfeld.  Rounding out the cast are Chantelle Albers, Ray Trickitt, Eliza Kiss, Dylan Hobbs, Stephen Eith, Nihilist Gelo, Carlos Javier Castillo, Joston Theney, Paula Tracey Wilson, Suzi Hale and NBA superstar Scot Pollard as the Axeman.
CHECK OUT THE LINKS FOR PRODUCTION, CAST & CREW DATA AS IT BECOMES AVAILABLE:
Official Facebook: www.Facebook.com/AxemanAtCuttersCreek
Official Twitter: www.Twitter.com/AxemanTheMovie