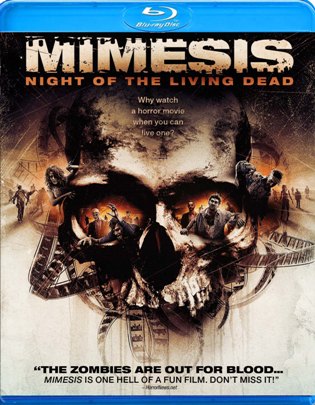 Turning the classic horror film NIGHT OF THE LIVING DEAD into a real life nightmare February 12th on Blu-ray™ and DVD
"Delivered true horror…Mimesis is a horror fan's dream concept." – WeGotThisCovered.com
"A cult classic in the making. A must watch, get your friends and know that you are going to have a blast." – WickedChannel.com
"Mimesis is one hell of a fun film. Don't miss it!" – HorrorNews.Net
Beverly Hills, CA – Why watch a horror film when you can live one?
For over a century, fans have had their blood curdled and spins chilled by the vicarious thrills of horror films. Whether populated by ghouls, slashers, zombies or vampires, fans flocked to have their pulse quickened and exercise their scream-generating skills. But one thing remained constant: eventually the story ended, because it was only a movie. What if it didn't have to end? What if the next level of horror was to experience a horror film from the inside?
Already the fan and critical favorite from over 15 notable film festivals, Anchor Bay Entertainment presents the next evolutionary turn in horror entertainment with the February 12th release of Mimesis on Blu-ray™ and DVD. Starring genre favorites Courtney Gains (Children of the Corn, Back to the Future) and Sid Haig (Rob Zombie's Halloween, The Devil's Rejects, House of 1000 Corpses), with a special cameo by original Night of the Living Dead star Bill Hinzman and featuring a song from the multi-platinum selling band Insane Clown Posse, Mimesis is already on its way to becoming the next great cult horror film! SRP is $24.99 for the Blu-ray™, and $22.98 for the DVD, with pre-book on January 16th. Fans will also have the opportunity to experience Mimesis at special event screenings across the country.
*Mimesis, as defined by Merriam Webster Dictionary: "imitation, mimicry."
Mimesis' inventive concept has won over fans at festivals spanning the globe, including FesTerror in Barcelona; Fantastic Estepona in Spain, where it won awards for Best Director and Best Original Score; the Shock Stock Horror Convention in Ontario, Canada; CineQuest in San Jose; the Los Angeles Fear & Fantasy Film Festival, where it won Honorable Mention for Best Picture; awarded Best Screenplay at the La Samain du Cinema Fantastique in Nice, France and most recently winning Best Feature Film at the 2012 Living Dead Film Festival.
In the film, a group of horror fans find themselves unwilling participants in a living nightmare that pays homage to a classic horror film. Seven complete strangers whose only common link is a love for classic era horror films are invited to attend an exclusive "horror fan" party at a remote farm. But as the sun sets, these strangers soon find themselves within a real life version of the 1968 George Romero cult horror classic Night of the Living Dead!
Mimesis is directed by Douglas Schulze, with screenplay by Joshua Wagner and Schulze. Kurt Eli Mayry, Schulze and Gavin Grazer produced, with original music composed by Diego Navarro.