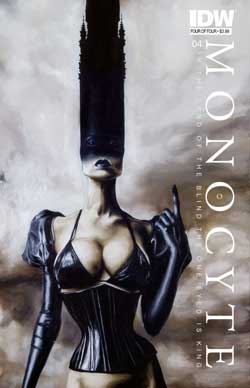 Issue: Monocyte #4
Writers: Menton3, Kasra Ghanbari, Steve Niles, Barron Storey
Artists: Menton3, Chris Newman, Ben Templesmith
Covers: Menton3, David Stoupakis, Phil Hale
Publisher: IDW
Release Date: May 2012
Price: $3.99

"The world is in in chaos. Monocyte makes his way to Azrael as the human slaves are freed… Series conclusion with art by menton3 (ZvR: Aventure, Silent Hill) and co-written by Kasra Ghanbari with an incentive cover by world-renowned fine artist Phil Hale and side stories by legendary fine artist/illustrator Barron Storey (Sandman: Endless Nights) and superstar horror writer Steve Niles (30 Days of Night, Criminal Macabre)."
Dying Breath: 5.0 out of 5
How can I even begin to put into words what I thought about the final issue of Monocyte without just saying…PERFECTION! That's all, review over. No, just kidding, but it really does sum up this issue and this entire series oh so damn well. The main story (there are two backup stories) was visually stunning. At one point my eyes melted out of my skull because of how GORE-Geous the pages by Menton3 and Chris Newman were. Since the series is now over, I want to recap how well the art played with the story because it was nailed down with this final issue. The images presented throughout the series were almost like going to an art gallery. I wondered how words could even try to play well with what I was seeing visually, and I think it was a great challenge for Menton3 and Kasra to overcome. Yet, in the hands of these two, a story was crafted that defied visual logic, playing out so poetically that I wondered if the images were even needed! They crafted a world that had so much depth and mystery that it played out beyond what my brain could even comprehend. This issue just solidifies the fact that when the right elements combine you can create something so beautiful it will leave all readers satisfied. Monocyte was a tempting beauty that captured my black heart for months on end. This, ladies and gentlemen, is beyond what comic books strive to be. It is what comic books should be.
Artwork: 5.0 out of 5 • Story: 5.0 out of 5
If you would like to buy or know more about Monocyte you can find it at http://www.idwpublishing.com
Comic Review: Monocyte – Issue 4