You can laways count on CBE in digging up a slew of new releases almost every month.. This latest batch spans the gamut of horror films we've never heard of.  Check em out below………
SUFFERING:
Upon awakening in an underground cell with no memory of how they arrived there, four women fall victim to a menacing figure conducting a gruesome experiment. One by one the women are visited by the Surgeon, who carves a four-digit number into their skin indicating the exact time he will return to slaughter them. None of the women know why they have been selected to meet such a grim fate. Will they discover the secret behind this dark experiment in time to avoid a painful demise at the end of the Surgeon's sharpened blade, or is there truly no escape from his bloody den of torture and suffering?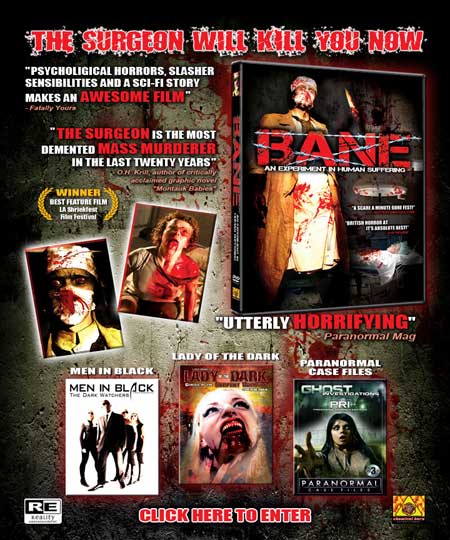 LADY OF THE DARK:
Eve is an ordinary married woman. A happy, spiritual woman who lives an idyllic life. But events take a turn for the worse when she's bitten by a snake. For this is no ordinary snake. And nothing can prepare Eve for the events that are to follow
DARK WATCHERS WOMAN IN BLACK:
More and more UFO sightings occur every day. Across the globe people are losing time, friends and loved ones disappear, while the Men in Black are perpetually lurking in the background. In a sleepy seaside village, three women search the skies for a sighting of a UFO that is repeatedly haunting the area. Every day they venture out until one day they return having completely lost 4 hours from their lives. Their need to understand the UFO's and why they are here opens a world they could never have imagined and takes them into the heart of a dark and secretive universe populated by the Men in Black. Coming face to face with the unknown, they begin to realize that they have been profoundly affected by their encounter. To make matters worse, they begin to evolve into something amazing, yet horrifying – something beyond their worst nightmares. Beware the Dark Watchers.
TIED BLOOD:
Returning to the remote home of his estranged family, George Morris (Kenneth G Hodgson) is horrified to find the blood-soaked corpses of his wife and children lying dead in the house. The Police dismiss his theories as superstitious nonsense, and in desperation George turns to spiritualist Robert Brandon (Paul McEwan), to find the ghostly presence in the house that George insists is the real killer.
Robert arrives at the isolated and foreboding farmhouse, abandoned since the killings and avoided by the suspicious locals. Over the course of one turbulent night, Robert and George attempt to unravel the mystery of the family's violent deaths. Robert uses his talents to contact the dead, and begins to piece together their tragic tales of ghosts, demons, murder… and the families darkest secret.
Untangling lies, contradictions and confusion, Robert discovers a truth that is far more real and dangerous than any ghost story, but in the process makes himself a target of the darkness that has been haunting this family for years, and ultimately tore them apart.
NINA SUICIDE GIRL:
A sexy bounty hunter battles a murderous Satanic cult with a penchant for kidnapping gorgeous models and sacrificing them in a quest for ultimate supernatural power. In a peaceful Italian province, a group of depraved Satanists have begun kidnapping young models, and draining their blood. But wherever there is debauchery and crime, Nina is sure to appear – leaving rivers of blood and trails of severed limbs in her wake. With her katana in hand and no mercy left in her soul, the ruthless bounty hunter embarks on a mission to rescue the innocents who have yet to be sacrificed, and send the crazed cult leader to meet his master in Hell.