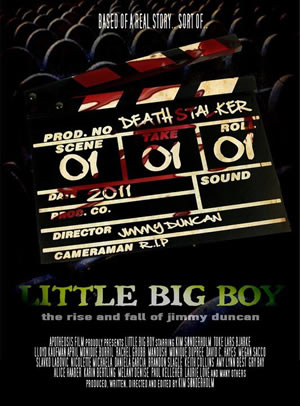 SYNOPSIS:

Successful horror film director Jimmy Duncan begins work on his anticipated fourth film, "Death Stalker," but runs into mounting production issues. His hot tempter, larger-than-life ego and deteriorating mental state make it difficult for him to trust anyone and complete his ambitious project. Haunted by the tragedies of his childhood, Jimmy Duncan descends into a demented, destructive mindset. Jimmy struggles with his own insanity desperately fighting his heinous, murderous impulses. No one is safe.
REVIEW:

With Little Big Boy: The Rise and Fall of Jimmy Duncan, director Kim Sonderholm combines multiple cinematic techniques in crafting his tale of Jimmy Duncan's plummet into madness. At times, Sonderholm mixes a comedic documentary style with straightforward narrative and even sprinkles in cinema verite. At other times, he employs more avant-garde approaches that are both innovative and distracting. The results are as mixed as the techniques used throughout the run time, creating a challenging film that demands your attention but rarely provides any rewards. Sonderholm takes the lead, playing Duncan, and brings along a parade of guest stars to color in the edges, including Lloyd Kaufman, April Monique Burril and Monique Dupree. Little Big Boy is listed as a Comedy/Horror film and is more successful as a comedy than a horror film. It paints an interesting portrait for its lead character and starts to gel toward the very end, but it resigning all the supporting characters to bit parts leaving the film and story on the shallow side.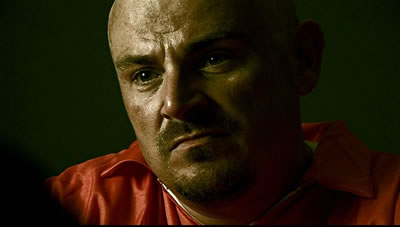 It's is not until the final reel that Kim Sonderholm digs in and provides the audience a Jimmy Duncan worth watching. Sonderholm commendably spends ample time fleshing out Duncan, his career, his challenges filming his fourth feature, his fractured past and his mental state. But, due to fact that it is told from many points of view, with little connection to the characters sharing their views and observations that the character comes across more dull than interesting. There's a complete lack of emotion to his plight and history. In most cases, the character fails to draw the audience in and the pace suffers because of it. However, toward the end, when the narrative begins to focus almost entirely on Duncan with fewer interruptions from outside, documentary-style inserts, that the film manages to become gripping. And the very final scenes of Duncan most likely more accurately relay the vision the director had with the entire feature.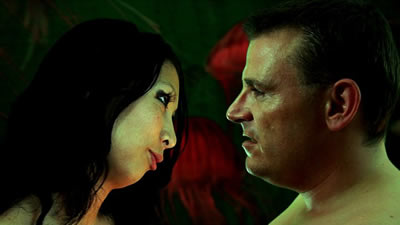 Throughout the story, a variety of characters appear on screen, usually in an interview like setting. Recognizable independent and low-budget actors like Llody Kaufman show up to share their experiences with Duncan throughout his career. Other actors include Amy Lynn Best, Rachel Grubb, Brandon Slagle, David C. Hayes, Keith Collins, Manoush, Gry Bay, Melany Denise and Katrine Poulsen. April Monique Burril (Chainsaw Sally) introduces the film, setting up the character and the movie both in description and in tone. In a rather humorous scene, one interviewee is uncharacteristically supportive of Duncan's side of the story, refusing to believe all the rumours and news of Duncan's charges and trial. Regrettably, most of these actors don't get much screen time with Sonderholm as Duncan and this creates a very isolated, disjointed story. This, combined with seemingly unconnected story-telling devices, makes the film feel very schizophrenic – like two, or even three, films sewn together.
In the end, Little Big Boy: The Rise and Fall of Jimmy Duncan is a interesting but unsatisfying comedy horror feature. Better for what it wants to be than what it became, the film is too unsure of its own voice and narrative to engage and convey the ideas behind the lead character and his downward spiral journey. The main character isn't allowed enough interaction with other characters to flesh out his personal story and instead most of his story is relayed from interviews and narration which steals away the intimacy needed to have Duncan become sympathetic or, alternatively, despicable. The film uses green screens from time to time in an awkward and unconvincing way which unfortunately reveal the budgetary constraints and pull the viewer further out of the picture. Little Big Boy doesn't work as a documentary-style film nor a straight narrative film either. In some ways, the more successful bits are when the film stretches toward more avante-garde, art-house cuts and dissolves. A curious film that is difficult to recommend; but, even with its faults, Little Big Boy manages to rise above most of the direct to video market with its vision alone.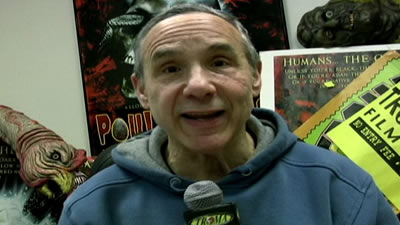 2 out of 5
Little Big Boy: The Rise and Fall of Jimmy Duncan (2011)