I caught up to Jay Mager who is the writer/director of the upcoming movie "Born to Die" and filmed a short film about the local legend of the Pigman. I asked him to tell us more about the two very different projects: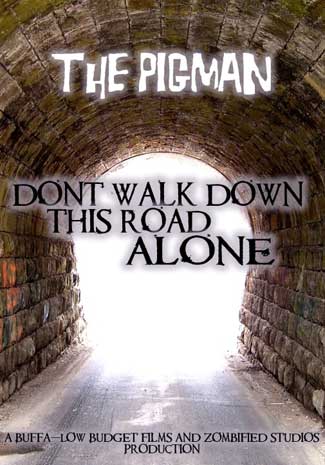 The Pigman
What drew me to The Pigman? The answer to that question is probably a good 14 years or so in the making. I first heard the legend surrounding The Pigman back in either 1994 or '95 from a friend of mine, it wasn't much more than what is basically a local version of the standard boogeyman story but as the years went by I continued hearing different variations on the story from various friends and acquaintances and something about it sort of stuck.
Fast forward about 10 years or so, my best friend Joe Gill (Co-Producer & 1st Assistant Director) and I had developed some what of obsession with local ghost stories & folklore in general and The Pigman story specifically. Around that time I wrote a short story putting my own twist on the legend. That short story became the impetus for the script even though the two are nothing alike.
After I had the script written, I decided to make The Pigman as a short film but didn't really know how to get it done. I spent the next several years learning what I could about video, audio and film production while working on a few of my own shorter projects along the way. That culminated in working with Greg Lamberson (Slime City) on his Johnny Gruesome music video & mini-movie in 2007. In some ways, I sort of see Greg as a mentor, I mean here's this local guy who was able to go out and "do it" if you will, with his years in New York making Slime City and working on several other films and then he's got his novels. The fact that he gave me a chance to work on Gruesome and see how he did it gave me the encouragement I needed to finally take The Pigman from a dream and turn it into a reality.
It was also on the set of Gruesome that I first met several of the people who would play an integral part in getting The Pigman made including my Director of Photography, Bob Lingle and Pigman mask maker, Matt Patterson (www.mattymask.com). Several of the actors & crew members also worked on both projects. During that same year, Matt met Rod Durick from Zombified Studios and invited him to the premiere of Gruesome. I met Rod there and got my first glimpse of his portfolio. I remember looking at those photos and seriously wondering if this guy was really this talented or if I was actually looking at some extremely brutal snuff photos, needless to say I was impressed. Thankfully, both for his models and his currently clean prison record, Rod actually is that talented.
Anyway, with all the pieces in place in early 2008 Joe and I set about making The Pigman. We wrangled in Rod who ended up not only being the SFX Supervisor but also a co-producer. Along the way, we got an enormous amount of help from a lot of people especially our close friends Sarah Watson (Production Manager) and her husband, Mike Caputi. Mike not only starred as The Pigman but the two of them were also gracious enough to allow us to film all of the exteriors on their land.
Since we finished the film, we've been lucky enough to see it screened at Rotten Jack's Creep Show and at the Dipson Market Arcade here in Buffalo as well as in Akron, Ohio at Con on The Cob and Con Nooga in Chattanooga, Tennessee. As for what's next for The Pigman? Who knows, but keep checking www.thepigmanmovie.com and www.myspace.com/thepigmanmovie to find out.
Born To Die
Born To Die also started out as a short story. I wrote it probably 12 years ago and around the time we wrapped on Gruesome I started toying around with the idea of turning it into a script, maybe even a feature length one. Soon after we finished up on The Pigman I was wondering what I wanted to do next, as I kept fleshing out the script for Born to Die I became more and more drawn to the story. Knowing that several other local filmmakers such as Adam Steigert, Emil Novak and a few others were out there making features on micro-budgets right here in my own backyard as well as actually having spent some time on the set of Adam's film, BITEZ gave me the confidence that I could do the same.
With Buffalo having a pretty close-knit film community, I knew that most of the other projects heading into production in the area in 2009 were all horror based and as much as I love horror I decided I wanted to head off in a slightly different direction. For me, it became clear that Born to Die was exactly the vehicle to do this with, its still brutal and unnerving and has plenty of blood but instead of the killers being supernatural or wearing masks, these guys could very well be your neighbor or your cousin. In fact, several aspects of the story are based on real life events that happened to people I knew or had heard of though the years. In the story, I took those aspects and exaggerated upon them, stringing them together into a continuous story line and adding some other pieces that I came up with along the way.
People have been referring to it as "Biker" movie but it's actually more of a crime, thriller type genre film. I don't want anyone getting the idea that it's some sort of homage to Easy Rider or something like that. I see it as being more akin to films like Reservoir Dogs, certain aspects of The Devil's Rejects, old-school exploitation movies and things like that. I'm really excited to start filming Born to Die, we've brought back many of the folks who worked on The Pigman as well as added some fresh new faces. As we head into production, I invite everyone to check out www.myspace.com/borntodiethemovie to watch our progress.
Thanks to Jay for taking time out of his busy schedule. We will come back for more on "Born to Die" when the movie goes into production.