Today, I'm here interviewing Mr. Skin for Horrornews. One would think "by name" that I'm talking about a deranged manic who wears human flesh for sh*ts and giggles. I mean, come on, Mr. Skin is a pretty good "slasher" name. Well, If you are a fan of nudity then you know I'm not talking about the next Jason or Freddy, but I'm talking about the nudity guru of www.mrskin.com for 10 years strong. He is the Wizard of Flesh, the Prince of Pu- Tang, and the Task Master of Titties, I give to you MR. SKIN !  Leave the cleaver and bring on the beaver !!!!!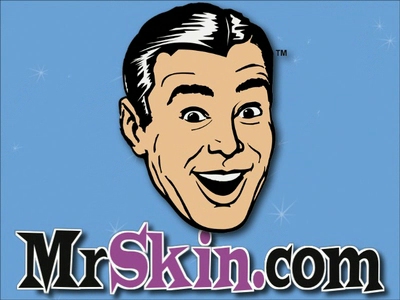 Welcome to the world of Horrornews.net ! I've been looking forward to this interview for quite some time. I think I first discovered you from listening to the Howard Stern Show. I'm sure you got a lot of popularity from Howard's show. Now, I know you have two books out Mr. Skin's Skintastic Video Guide and The 501 Greatest Movies for Sex and Nudity on DVD.  Are you working on any other books?
Creating the books was a great experience and the Skincyclopedia sold so well that St. Martin's Press published an updated second edition. At present, my focus is on MrSkin.com and developing new web-based features like our video playlists. Have you checked those out? They're mind AND lap-blowing!
Are there any movies we should look forward to seeing in 2011 ?

In terms of horror movies with nudity, I have no hard confirmations coming  all puns, as always, intended. But the rumored celebrity nude scenes I'm looking forward to most this year are Sarah Silverman's supposed full frontal in Take This Waltz.
Paparazzi pics have also clued us in to highly likely nude scenes from Halle Berry in Frankie and Alice, where her chest berries spill out of her shirt, and Anna Faris baring her House Bunny tail again in What's YourNumber?
Now, of course most horror films don't make it to the theaters. They're DVD bound right from the get go. Those movies maybe have a little more freedom, just because. Do you keep track of nudity in independent horror ?
I should ask… Is MR. SKIN a horror fan ?
I am above all a nudity fan and horror is the number-one genre for nudity. Thus, that makes me a horror fanatic.
I'm curious if you have a favorite horror film (old school or new) that you would recommend to our horror and skin fans ?
P*rn star Kelly Nichols' full-frontal in The Toolbox Murders is a thing of legend—especially to a guy like me who prefers his muffs naturally full and fluffy.
The best horror movies in recent years for nudity would be the original Hostel and, the front-runner for the Breast Picture of 2010 at my upcoming Anatomy Awards, Piranha 3D.
Nudity is that 'special ingrediant' that lots of horror films bank on when they know their script isn't up to snuff. I'm all for a little T and A , but do you think some of these guys might OVER use nudity in movies to the point that it's just not that special. Is there a such thing as too much nudity ?
There is NO such thing as too much nudity.
There is NO such thing as too much nudity.
There is NO such thing as too much nudity.
I want you to repeat that above mantra until you realize its profound truth forever.
As a man who loves women, I want to see every single one of them naked young, old, fat, thin, and every color of the rainbow. Therefore, all nude scenes are extremely special to me.
The reason there's so much skin in horror movies is because when you're naked you're automatically vulnerable. And when you're a hot naked chick and you throw a killer or a monster or a demon in the mix, it's a perfectly reliable formula. Remember, too, that nudity is the cheapest special effect and it's guaranteed to work every time.
Nudity is also a crucial element for over-the-top shock horror films such as Anti-Christ, Martyrs and A Serbian Film. It instantly signals that there are no rules and anything can happen. In fact, part of the reason I thought uman Centipede was ultimately ineffective was because it seemed to shy away from nudity.
So just keep repeating: There is NO such thing as too much nudity.
Moving forward… do you think we will see more or less nudity in the horror films of the future?
The simple fact is that, on the big screen, we have been and will likely continue to see less nudity. With home video, it's simply not the draw it once was when it comes to getting people into theaters. There are exceptions, of course, Piranha 3D being a big one.
But on video, where you can really, deeply, and skintimately enjoy a nude scene, I think horror movies will continue to be the vanguard of nudity, offering more nakedness in terms of both quantity and inventive quality as we go forward.
Cameras and editing equipment are all really cheap now. And as I said earlier, nudity is the cheapest—and best—special effect. So I expect to see more and more all the time in horror. Joyfully.
Here's the big Scream Queen question. There's a lot of actresses who are dubbed as Scream Queens, but who really holds the title and wears that crown by MR. SKIN standards ?
If I were going to single out my all-time favorite nude scene in a horror movie, it would be Linnea Quigley's graveyard strip in Return of the Living Dead.
For decades, I thought she went full frontal, but the miracle of high-definition has revealed that she's wearing some kind of rubber
prosthetic over her crotch.
Normally, I'm appalled by any kind of trickery like that, but Linnea's turnas Trash remains my pick for the greatest fright-flick turn-on.
For that, and for her 37 nude roles to date spanning four decades, almost all of which were in horror movies, Linnea Quigley will always be my number-one Scream Queen.
I've done some personal appearances and multiple Skinterviews with Debbie Rochon, so she's a personal favorite too. And gorgeous!
Back in the 2000s, Misty Mundae really made a run for the title. I hope we get to see her naked again soon. Come back, Misty!
Ok, I'm going to give you the ultimate power for a moment. If you can cast three hotties of your choice in a horror movie , what three and how much skin….. GO!!!!
It's the same three actresses I most want to see naked who have not done a proper nude scene so far: Christina Hendricks, Scarlett Johansson and Jessica Simpson.
ScarJo once slipped some fast, blurry, accidental nip in a movie called A Good Woman, but I want bright, clean, full-on nudity.
And for the record, I define "nudity" per se, as the visibility of one or combination of the following body parts: nipples, butt-crack, pubic hair, labia and/or anus.
A butt in a thong is NOT a naked butt.
And online there will be a lot of claims of topless photos where the chick is covering her nipples. That is NOT topless.
At MrSkin.com, we always shoot you straight on this distinction.
What does Mr. Skin have planned for the future?
I'm really pouring myself into the website. The Skin Team is skincrediblewhen it comes to keeping us on the cutting edge of technology and  skinnovation. Again, if you haven't checked out our video playlists, do so now. You'll get lost in there for hours… and there's no better place to be lost than in the realm of every single celebrity nudity scene ever filmed. So come on in.