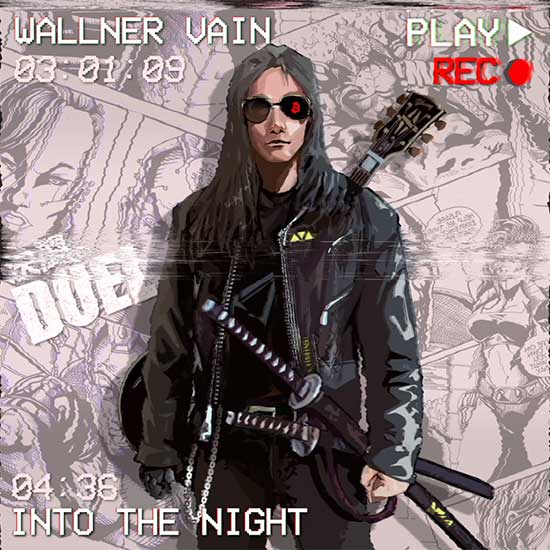 Wallner Vain, consisting of British guitarist Will Wallner and Croatian vocalist Vivien Vain, have released another single off of their upcoming full-length release Duel.The single, "Into The Night", is a guitar driven rock tune- packed with chugging yet catchy riffs and electric solos, highlighting Wallner's musical prowess.
"Into The Night" follows their first single "Johnny. B Bad" in the Wallner Vain release pipeline, as the duo has decided to unleash each track off of Duel as a single prior to the album's official release later this year. Wallner Vain has given listeners yet another piece of 80's influenced rock and roll with "Into The Night", bringing us their version of the beloved arena rock sound.
"'Into the Night" is a straight forward hard rock jam. I took a lot of influence from my hero Gary Moore on this one. For the artwork I told the artist that I wanted to look like the Terminator with a Les Paul and a Samurai sword- I think it came out looking pretty cool!" – Will Wallner
"This was the first song we wrote during the lockdown. My favourite part is the outro vocal which was a totally unrehearsed improvisation. I wanted to try something a bit different for rhythm section, so we got a new bass player named Jack Glazer who sounds great. Jonathan Brown who played drums on "Johnny B. Bad", is on this one as well."
– Vivien Vain
"Into The Night" was mixed and mastered by Chris Collier with artwork from "Sketchy Bot".