Hey Fiends, it's another awesome day to my favorite month of the year, and I have so much to offer including my special upcoming Halloween Edition which will include some new faces as well some legendary ones. Look out for that! I also have some killer news, I have officially become a lead interviewer for the site, I'm so honored! Thank you to my incredible bosses, the Charlie to my angel, Mikey Bonedigger and of course the lovely and talented Dai Green for this next step in my career. I could not ask for a better set of people to work for! I am truly devoted to this column.
It is truly my baby, and not unlike Jordan Ladd in Paul Solet's Grace, I will do absolutely ANYTHING to keep it safe and alive. Anyway, this edition is another special one. I have had the amazing opportunity to speak to two best friends who are ready to take on the horror slash thriller genre. One is a veteran who has already stormed through the terror trenches for over two decades, another is extremely talented and is prepared to take some of her first steps onto the battlefield. I am talking about The Victim's star and producer Jennifer Blanc-Biehn and co-star, the legendary and never duplicated, Hatchet II's beautiful badass Danielle Harris. So you wanted blood, you got it! Say my name once, twice, three times and let's get down to some horror business!

First up is of course movies. So are you searching for visuals to satisfy your Sam Hain senses? Well, here are some terror trips worth looking into.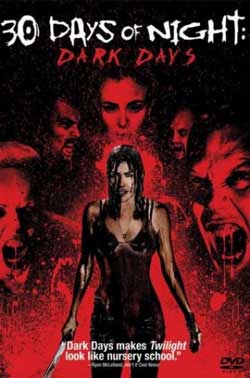 30 Days Of Night:Dark Days is the unfortunately direct to DVD sequel to the awesomely brutal film adaptation, 30 Days Of Night, based of course on the now classic graphic novel of the same name. The film stars The Perfect Getaway's Kiele Sanchez as Stella, stepping into the role previously played in the original by Melissa George. The film begins with Stella hell bent on exposing the horror in Barrow, Alaska to the public, namely the massacre of ninety-eight men, women, and children.
With her speaking engagements unsuccessful in alerting the public of the vicious vampires, our heroine is unexpectedly recruited by three other victims of related attacks who clue her in on the existence of Lilith, the vampire queen played with precision by the strikingly beautiful Mia Kirshner. Lilith is the head of the clan ultimately responsible for the genocide of Stella's Alaskan town's inhabitants. The group set off to avenge the murders in their lives in the underbelly of the dark, and gritty Los Angeles streets. The sequel also stars Lost's Harold Perrineau and Night Of The Demon's equally drop dead gorgeous and vicious, Diora Baird. Will the human race survive the hidden clans of bloodthirsty creatures? You can find out for yourself because Dark Days from Sony Pictures has released the truth, gain your knowledge right now!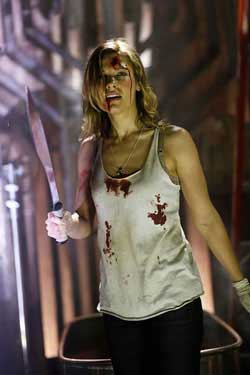 Next up is horror master John Landis's first film in twelve years, the black comedy Burke & Hare. This is slightly based on the true story about the famous murderers. The film follows the exploits of the ghoulish duo as they fall into the highly profitable business of providing cadavers for the medical fraternity in nineteenth century Edinburgh. Once the center of medicinal learning, the only thing the institution of knowledge was sparse on was bodies. . hmmm, fill in the blanks. The film stars one of my personal favorites, Shaun Of The Dead's Simon Pegg and Lord Of The Ring's own Golem, Andy Serkis. The film will first be released in the United Kingdom on October 29th. Oh yeah, it also co-stars one of cinema's ultimate Draculas, the timeless Christopher Lee. More release dates will be announced when they become available.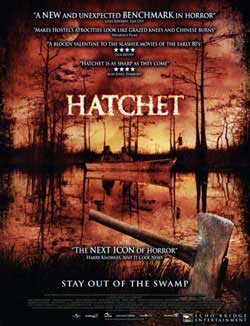 Finally, I have some sad news to announce if you have not paid attention to the internet. Director Adam Green's unrated campy bloodfest, Hatchet II has been pulled from theaters. No real explanation has been released, but Green stated that it might be due to the fact that hiring security to check id's would become a nuisance for the chain. Green does not want the MPAA abolished, but is frustrated his comedy-horror film was given an NC-17 rating while in the last few years film known only as "torture p*rn" are able to squeak by with an R rating. Filmmakers who have faced the wrath of the system themselves such as Clerk's Kevin Smith are in the director's corner, and we should be also. Look, here's the thing. Number one, Victor Crowley has become a horror icon to many, and should be treated as such. Number two, Adam Green is a highly inventive, amazing chameleon of a director. In my opinion, not unlike Hitchcock. Listen, he made a mystery thriller like Spiral, and then a survival drama like Frozen, and then created a perfect 80's slasher homage like Hatchet. And number three, I have been a huge fan of Danielle Harris's, she is a Scream Queen, there's no denying that! Now, she was given the chance to shed her victim skin, and blossom into a kickass vengeful heroine, truly one of my visual horror dreams come true. Bottom line, please support independent horror. These films really are bringing us the greatest terror has to offer. . please Fiends!  Thank you for listening.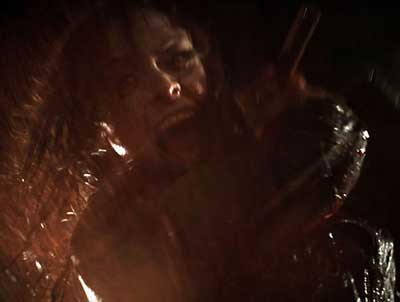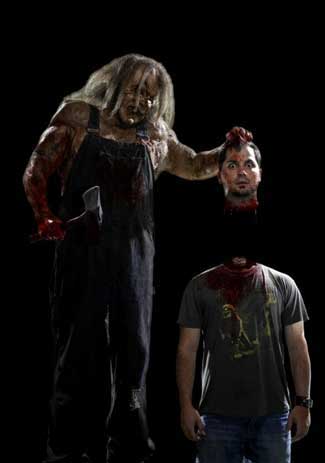 Okay, back to the goods!
Next up is comics, and if you are looking for some chaos and carnage from your favorite characters then I have what you thirst for. Also, I have a major announcement that we will get to in just a bit!
First is some badass comic news involving the greatest animated black metal band in the history of music! That's right, Dethklok finally have their own comic series, f*ck yeah! The first story written by series creator and bandmate, Brendon Small involves Dethklok entering the fast food world after a series of sponsorship deals go sour. The band launch a line of frozen meals in hopes of reclaiming their metal throne. . I picture alot of bloody vomit, broken teeth, and death. Check out the dark mayhem because the series has already stormed onto comic shelves from Image Comics.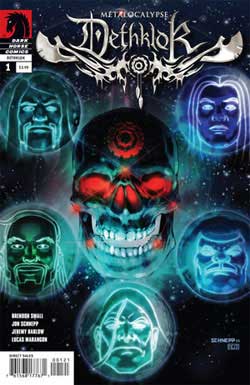 Finally, Image have released new Walking Dead posters for issue number eighty. The posters portray the possible end for Rick Grimes and the surviving members of the group. The holidays are going to be a potential mistletoe massacre when the Walking Dead invades stores in December.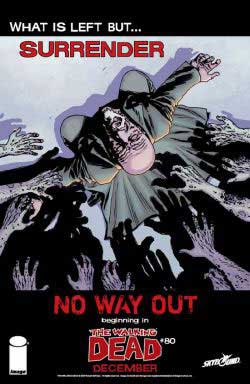 And now, it's my extreme pleasure to introduce you to my new Olivia Munn of Horror Talk, my new female correspondent who is an official Comic Book Diva, as well as an actress best known for her roles in Alexandre's Aja's fun and gory thrill ride Piranha and the web series, Western X. She is highly intelligent, sweet, humorous, and she knows her sh*t when it comes to all things illustrated. So, crazies and maniacs, please welcome the lovely Victoria Paege!
This is definitely an honor for me to bring you a new voice that deserves to be heard, and look out for Victoria's expertise in the coming months. Thanks Vee, for your wisdom and friendship. You rock girl!
Next up of course is books, and I have to tell you although I am not a Star Wars fan the idea of this novel tickles me like Senator Martin if her daughter was on the slab. If you know me personally you know that I do not own a stitch of Star Wars, but fear not Lucas fans, you can accept me as well because the Delamorte Deadly Delight is the second printing Death Troopers by killer author, Joe Schreiber. This is the Star Wars novel of every horror fan's f*cked up dreams: gory, campy, and brimming with a blood spattered cast of undead space zombies! The story involves the Imperial prison barge, Purge, temporary home to five hundred of the Galaxy's most notorious scum bags, thieves, and murderers. Purge breaks down suddenly in distant space and its only hope appears to lie with a Star Destroyer found drifting and seemingly abandoned. When a boarding party is sent to scavenge for parts, only half return bringing with them a disease so lethal that within hours nearly all aboard Purge die in ways too hideous to imagine. . pretty cool!
The prison's half dozen survivors will do whatever it takes to survive but nothing will prepare them for what lies waiting aboard the Star Destroyer itself. The dead are rising, soulless, and unspeakably hungry. Look out for your Galactic brains when Lucas Books re-releases this horror/sci-fi story on October 26th!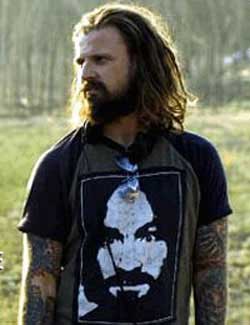 Looking for some terror television this month? Hey guys, it's October. . it won't be too damn hard. Here are just a few offerings to choose from.
First, the SuperBeast, Rob Zombie, invades the homes of whitebread American families when he appears on Extreme Makeover:Home Edition. Yeah, I know. I know. . but this is absolutely for a great cause. The episode focuses on the Oregon School for the Deaf and their annual haunted attraction, The Nightmare Factory, which brings much needed income to the one hundred and forty year old financially strapped school. The twelve thousand square foot basement where the attraction is held is deemed highly unsafe, so Zombie and the show's design team have seven days to make the place safe again. If only Doctor Satan would also give that Ty Pennington guy a gruesome lobotomy. See the God of Ghouls do good deeds when Extreme Makeover: Home Edition airs an ABC Halloween night at 8pm.
Also, Britain's answer to the zombie invasion has been picked up by the Independent Film Channel. Dead Set is a horror comedy which follows the contestants of a reality Big Brother style show who are completely unaware that the country has been decimated by a zombie invasion. . well, at least until they're evicted. The five part miniseries will air on the network nightly from October 25th through the 29th, with a back-to-back marathon playing on Halloween. Sorry, but on that night I'll be salivating over the Walking Dead on AMC that eve, mates! Watch reality be rendered and torn when Dead Set premieres on IFC on October 25th.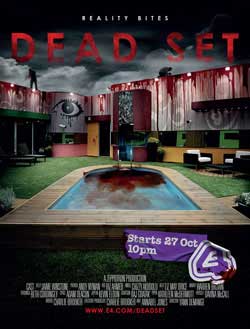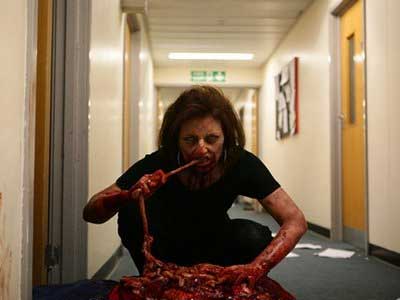 Finally, I have some ghoulish goods for true horror nerds like myself.
First is the item based on the Deadly Delight for this edition, the Death Troopers minibust. This bust based on the R rated Star Wars novel is 6. 5 inches and is crafted in heavy, high quality polystone. It also features detachable armor plates revealing the decay of the Imperial Undead underneath. This piece is individually numbered with matching certificate of authenticity and includes a complete paperback edition of the book. This item has no actual release date, but you can order your own galactic ghoul from Gentle Giant, Ltd. now!
Also this month, everyone who watches truly one of the greatest shows ever knows that Dexter Morgan has a ritual where he saves a drop of blood from each one of his victims on a microscope slide. . now you can own your very own trophies!
From Monsters In Motion comes the fully stacked, fully awesome Trophy Box. Each item includes a wooden slide box, forty-five blood slides, one "smiley" slide, a genuine evidence bag, and a signed/stamped certificate of authenticity. Wow! Holy Santa Claus sh*t! Appease your Dark Passenger when this beautiful item is released from Monsters In Motion on October 29th!
So once again there you have it. The latest in horror treasures and a new face added to the column. Stay tuned for the Halloween Edition, which will include many special guests. . I cannot wait to bring it to you! Once again, please support independent horror, my friends, and to the people who do not care for the indie thrills and chills, well in the immortal words of Camille Keaton, "suck it, bitch! "Well, I'm off to the la-bor-a-toree, but remember, the only thing that can impale your dreams is your own negativity. Scare ya later, F. C. !
Sweet Nightmares and Pleasant Screams,
SIN-cerely, Your Horrorpunk Host of the Hoary Netherworld,
Robert Delamorte