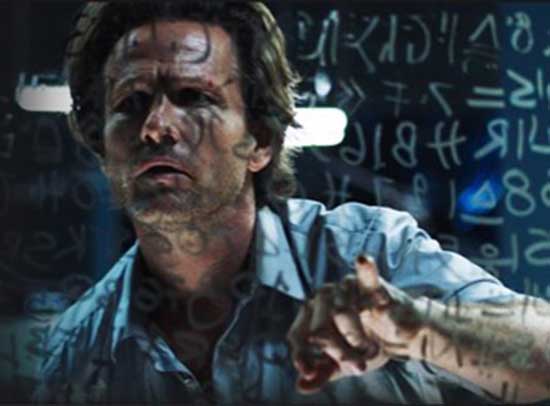 Thursday, March 18th, 2021: Tomorrow, CYPHER, is making its exclusive premiere on The Roku Channel. Cypher — an FBI code breaking specialist who discovers a secret organization's hit list, and must navigate the murky waters of loyalty and betrayal amongst fellow FBI agents – all as the clock ticks to save his kidnapped daughter.
Available for the first time to viewers in the U.S. and Canada, all seven episodes of Season One will drop on Friday, March 19th, 2021.
The series hit the top ten outside of North America on numerous foreign Netflix platforms and Chunghua Telecom's MOD, Taiwan's largest telecom SVOD platform.
CYPHER Executive Producer, Kelly Mi Li, had her Netflix series, Bling Empire, recently open in the TOP TEN in more than 50 countries. She is the only female producer behind the scenes. "I'm proud to be part of such an international and ethnically diverse producer team, including strong female characters we have in the cast. We're working to bring even more diversity to future projects, with plans to shoot overseas over four continents including Asia, Europe, Australia and the USA."
Season 1, directed and created by Tunisian born Majdi Smiri, was shot in Los Angeles and funded and produced jointly by Cairo based Aroma Studios, LA based AZ Films, Thriller Films and Organic Media Group (OMG). The drama series is one of the rare independently financed and produced series streaming in North America today, which Li suggests is a new trend.
Kelly says, "Just like independent film producers back in the seventies, we learned how to sell and finance movies internationally. Today with more and more opportunities to televise programming worldwide, we took a chance at cracking the code of independently financed television and make not just the pilot but the whole season on spec."
CYPHER's cast includes Aussie actor Martin Dingle Wall, known for Simon West's 'Gun Shy' opposite Antonio Banderas, John Reardon who recently starred in the hit Canadian series 'Hudson & Rex,' Eve Mauro (The Oath, Dystopia), Jaclyn Hales (Legion) and Brian Krause (Charmed) and the adorable young actress and America's Got Talent contestant, Lauren Gravitt.
In addition to Kelly Mi Li & Steve Chicorel who co-founded OMG, fellow producers include Aroma principal, Tamer Mortada, Thriller Films principal, Justin Jones & Adam Horner, along with AZ Films showrunner Zeus Zamani.
Television distribution veteran Mara Sternthal developed and brokered the deal between The Roku Channel and Team CYPHER.