For most horror fans, the love of Halloween and affinity for the macabre originated at a young age. Dressing up in costume, going trick-or-treating, and watching spooky shows were all meaningful events during our favorite time of year growing up. Mostly, our introduction to horror was spoon-fed to us either by friends or family through animation films and TV shows– a delicate yet still dangerous taste of the creepy unknown. The holidays are a time to feel like a kid again, and for some, introduce the genre to the young ones of the family. Whether you want to recruit a new genre fan at a young age or just relive your youth, here are some of the best animated horror films to grace the screen in most recent years.
A remake of Tim Burton's 1984 short film, this 3-D stop motion animated film is a beloved parody of Mary Shelley's literary classic Frankenstein. The story centers around a young boy named Victor who loses his dog, a bull-terrier named Sparky. His affinity for science is put to the test when he attempts to resurrect his pup by utilizing electrical currents from lightning during a thunderstorm. Unlike Church– the cat who had a similar fate and was brought back to life in Pet Sematary— Sparky rises from the dead with plenty of affection while Victor tries to hide his secret  and scientific discovery as to not get into the wrong hands. There's a strong focus on science throughout the film, as well as multiple homages to the horror genre, with references to Creature from the Black Lagoon, Dracula, and Bride of Frankenstein.
Corpse Bride
'Til Death Do Us Part means nothing to Emily, a rotted corpse who is accidentally summoned out of her grave in full battered bridal attire by an estranged suitor named Victor. Believing she has found her husband, despite Victor's unknown engagement to an affluent socialite named Victoria, Emily journeys into the Land of the Underworld as she attempts to assimilate Victor into her way of life (er, death). The story itself is based off of a 19th-century Russian folktale and the characters reflect a social hierarchy relevant to Victorian-era England. Danny Elfman, of course, scores the macabre musical with dance sequences lighting up the underworld reminiscent of Mario Bava's giallo classics. A macabre portrait of matrimony, the visual aesthetic gives audiences a literal drop dead gorgeous cinematic treat.
The Simpsons Treehouse of Horror  
In 1990, Simpsons creator Matt Groening aired the first Halloween special inspired by 1950s EC horror comic tales. An annual event now in its 28th year, the spooky specials take place in canon and do not conform to the show's traditional narrative. Episodes contain several trademarks including the repeating alien characters Kang and Kodos, scary nicknames by the production team in the credits, a special version of the opening sequence, and an abundance of parodies from horror, fantasy, and sci-fi. Cultural references include practically every horror subgenre on the shelf with allusions to Hitchcock, The Twilight Zone, '80s creature features, and all the major franchises.  
A staple in Halloween merriment, Tim Burton's Nightmare Before Christmas has become a treasured terror. The pure craftsmanship that went into developing this film is nothing short of impressive. In order to create the creepy characters like Jack Skellington and Sally, a crew of 120 workers utilized 20 sound stages and built multiple heads that were interchanged to adjust each expression between frames. Jack alone had over four hundred heads. While Jack's native Halloween Town is filled with German expressionism aesthetic, he becomes completely enthralled with the newly discovered neighboring Christmas Town reminiscent of a world from Dr. Seuss. Attempting to recreate Christmas in his own macabre manner, he learns the true meaning of both holidays but accepts himself entirely as a loveable outcast and true Pumpkin King.
The Halloween Tree
Based on Ray Bradbury's autumn-laced novel, this film adaptation chronicles a group of trick-or-treaters who learn the history of Halloween once their friend is spirited away by mysterious forces. They venture through time with the guidance from an eerie scholar by the name of Mr. Moundshroud. The curious clan chases their friend's spirit to ancient Egypt where they learn about "The Festival of Ghosts", to Stonehenge where they witness Celtic Druid rituals, to the cathedrals in France, and finally to Mexico where they celebrate The Day of the Dead. Like carving pumpkins and dressing up, this educational and entertaining animated classic is worthy of an annual tradition at any age.
Author Neil Gaiman is kid-friendly horror royalty. He's written dozens of books and comics focusing on the macabre and fantasy. In 2009, write/director Henry Selick adapted Gaiman's beloved novel, Coraline, into a stop-animated feature film. The movie follows a young girl who just moves into a new home with her parents, where she discovers a secret passageway that leads into a mirrored existence of her own. Her "other" parents have buttons for eyes and despite their initially off-putting appearance, enliven her day-to-day routine with delicious, elaborate meals, songs, and dance. However, something sinister lies beyond the door and she must choose which life (and pair of parents) she wants to stay with indefinitely.
Stop-animation powerhouse, Laika, delivers another cute and chilling film that follows a young boy named Norman, who is able to speak to the dead. He realizes his Massachusetts town is under the spell of a 300-year-old witch's curse, which he alone must break. Director Chris Butler initially wanted to create a zombie film for kids with social commentary about the difficulties of growing up. It is the first-ever stop-motion film to utilize full-color 3D printers for replacement animation. The character, Mitch, is also the first openly gay character in an animated film. Butler emphasizes how the film's message is rooted in acceptance and not in the judgement of others. Therefore, in 2013, the movie's representation of the LGBTQ community it earned GLAAD' first-ever PG movie nomination for its annual GLAAD Media Awards.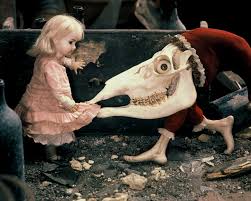 Alice
Loosely adapted from Lewis Carroll's classic, Alice in Wonderland, Czech director Jan Švankmajer provides ample nightmare fuel in his 1998 dark fantasy animated tale. The premise is near identical to its source material, following a young girl named Alice who chases a white rabbit into a bizarre fantasy land. The decrepit and eerie set design and combination of live-action and stop-motion animation really set this film apart from others within the Wonderland paradigm. Unlike other stop-motion films, Alice does not use miniature sets to obtain the desired effects. Stripped of sweetness and replaced by mechanical noises and creatures one would expect to find in a haunted antique store or abandoned attic, Alice is one fable adaptation that will leaving an artistically creepy impression.
There's always that one house in the neighborhood that kids are scared to approach–filled with lore and decorated with broken shutters, cobwebs, and phantom footsteps. However, unlike other haunted house movies, the home in Gil Kenan's 2006 animated film is actually a living, breathing monster, set on devouring the teens on the block. Monster House was shot using performance capture. In other words, the actors performed their characters' movements while linked to sensors. It literally brings the haunted house trope to life and provides audiences a mighty scare and plenty of sass from its teenage cast.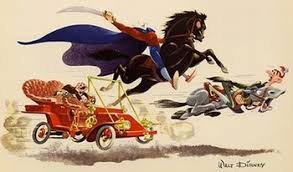 The Adventures of Ichabod and Mr. Toad
Classics never die. Produced by Walt Disney Productions, The Adventures of Ichabod and Mr. Toad is a two-part film with each segment influenced by a famous story: "The Wind in the Willows" and The Legend of Sleepy Hollow".  As a framing device, each segment is introduced as a live-action sequence set in a library, paying homage to the original works. Well-known celebrities Basil Rathbone and Bing Crosby narrated the segments in order to lure mass appeal. Despite its initial release in 1949, the film was recirculated back onto screens with a Blu-Ray edition in 2014.