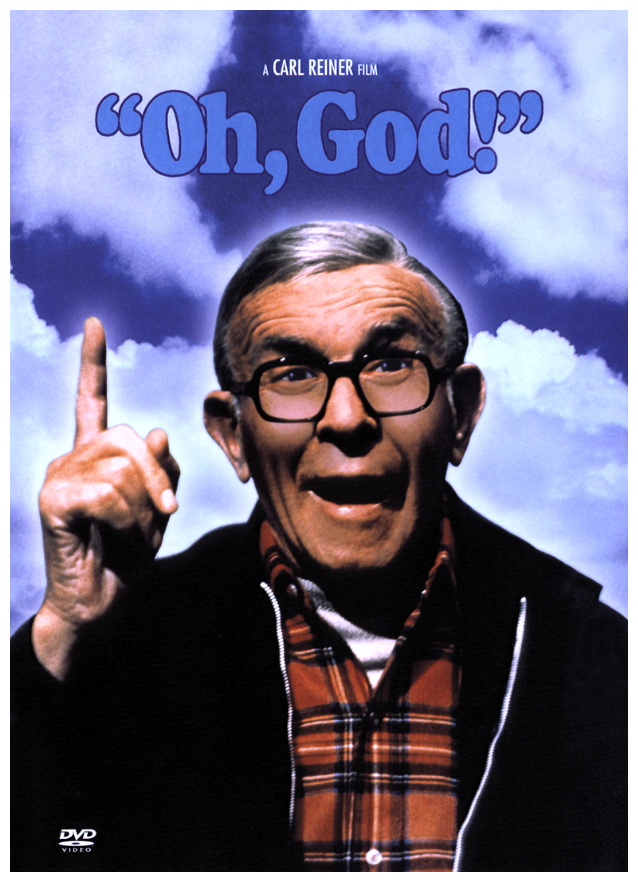 SYNOPSIS:
"Jerry Landers, a supermarket assistant manager and a good yet non-religious person, suddenly finds a note in the mail one day that grants him an 'interview' with God. Thinking it to be a hoax he tosses it away, but when it keeps reappearing he finally gives in. Skeptical at first, he ends up carrying His personal message – that the world can work with what God has given us." (courtesy IMDB)
REVIEW:
With an amazing career spanning seven decades, writer and filmmaker Carl Reiner is one of the greatest comic talents ever to come out of America. During the fifties he worked with Sid Caesar in creating some of the best comedy ever to grace television screens. Come the sixties Reiner was best known as the creator of The Dick Van Dyke Show and, in the seventies, had huge success as a filmmaker partnering with Steve Martin, writing and directing Martin's best movies like The Jerk (1979), Dead Men Don't Wear Plaid (1982) and The Man With Two Brains (1983). As an actor Reiner performed as Mel Brooks' straight-man in the famous comedy duologue The 2000 Year Old Man, and in films from The Russians Are Coming The Russians Are Coming (1966) to the Ocean's Eleven (2001) trilogy. Winner of nine Emmy awards and one Grammy, Reiner also happens to be the father of famous filmmaker Rob Reiner and author Annie Reiner.
Reiner's Oh, God! (1977) gives the Almighty a benevolent face, and wow, what a face it is. Who better than kindly old codger George Burns, master of the dry one-liner, to decide our ultimate fate come Judgment Day? Burns is happily supplied with a plethora of choice witticisms, courtesy of Larry Gelbart's perceptive screenplay and Reiner's seasoned instincts for sharp dialogue. On the surface, these comments play out like familiar jokes but, behind Burns' simple, gentle, matter-of-fact deliveries are ruminations about the universe and humanity's place in that they are theologically sound and often inspiring. God appears as a kindly old man to Jerry Landers (John Denver), an assistant manager at a supermarket. After a few failed attempts to set up an interview, God tells Landers that he has been selected to be His messenger to the modern world, not unlike a contemporary Moses.
Landers tells his wife Bobbie (Teri Garr) and children (Moosie Drier & Rachel Longaker) about his close encounter with God, as well as the religious editor of the Los Angeles Times, and soon becomes the laughing-stock of a nation. Landers appears on The Dinah Shore Show and describes the form God takes when he encounters Him. The next day God appears to Landers as a taxi driver to take him home, where they are met by a bunch of religious protesters chanting outside his house. God tells Landers that he has the strength that comes from knowing, then promptly vanishes again. Landers finds his life turned upside down as a group of theologians challenge him to answer a series of written questions in Aramaic while locked in a hotel room alone to prove that God is contacting him directly. God eventually turns up as a room service attendant and answers the questions. Still not good enough, Landers decides to prove his story in a court of law.
Landers argues that if God's existence is a reasonable possibility, then He can materialise in the witness chair if He so chooses. After a lot of debate for-and-against, God suddenly appears and asks to be sworn in. He provides a few miracles, first some impressive card tricks then He leaves the stand, walks a few steps and, with everyone watching, literally disappears before their eyes. His disembodied voice then issues a parting shot: "It can work. If you find it hard to believe in Me, maybe it will help to know that I believe in you." Later Landers meets up with God one last time. God is going on a trip to spend some time with animals and doesn't plan to return. Landers thinks they failed, but God says he was given the best seeds and they'll eventually take root. Landers has lost his job and everybody thinks he's insane, but God assures him that there are other jobs and that he's in good company. Landers asks what if he needs to talk with Him. God says, "You talk, I'll listen."
This is no flimsy gimmick movie but an endearing study of why mankind needs God and vice-versa, prompting Him to visit our world in search of a modern-day Moses to help spread the Good Word. He finds such a person in Landers, a decent family man who does his best to contend with the unexpected spiritual phenomenon in his midst. Country singer-songwriter John Denver was never much of an actor, but he's perfect for this role, guileless and hopeful, bringing new meaning to what might be described as a profound Father-And-Son relationship (Reiner originally wanted to cast Mel Brooks as God and Woody Allen as Landers). Together these two take on the media, organised religion and the American justice system, ably supported by Donald Pleasence, Ralph Bellamy, William Daniels, Barnard Hughes, Paul Sorvino, Barry Sullivan, David Ogden Stiers and Murphy Dunne. Although entertainment is obviously their primary goal, Reiner and Gelbart ask some important theological questions along the way.
God explains to doubting experts, "Jesus was my son, but so is every human being on Earth, good or bad, black or white, Democrat or Republican." He even addresses humanity's escalating lack of belief in His very existence, casually noting the irony of how easy it was for the masses to accept Satanic possession as being real after seeing a little girl spitting pea soup in The Exorcist (1973). Nominated for an Oscar for Best Screenplay, Oh, God! actually knocked Star Wars (1977) out of the number one position at the box-office, making enough money to inspire two sequels both starring George Burns, neither of them in the same league. The first film has all the laughs, fresh ideas, memorable performances, a catchy soundtrack by Jack Elliot, something comforting to say, and would make an ideal double-feature with Kevin Smith's theological masterpiece Dogma (1999). I'll allow you to mull over my questionable judgment in film-festival programming for the next seven days, and politely invite you to meet me here next week at Horror News when I'll have another opportunity to inflict a pain beyond pain, an agony so intense it shocks the mind into instant mashed potato! Till then, Toodles!
Oh, God! (1977)