Reel Gore Releasing – September 2016 New Releases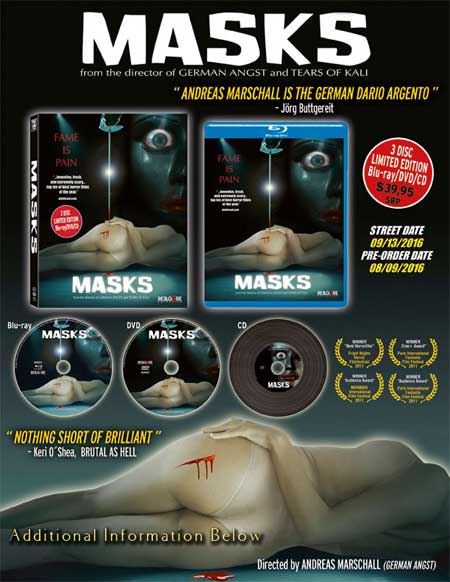 Masks
Blu-ray/DVD/CD Combo
Label: Reel Gore Releasing
Prebook: 08/09/2016 Street: 09/13/2016
SRP: $39.95 UPC: 881190600290 Cat: RGR002
Color 109 minutes In German with English and Spanish subtitles
Widescreen Anamorphic 2.35:1 DTS-HD MA 5.1 Surround All Regions
Production year: 2011 Horror Not Rated
Director: Andreas Marschall
Cast: Michael Balaun, Lucyna Bialy, Lisa Blaschke, Franziska Breite, Zübeyde Bulut, Nico Ousman Corr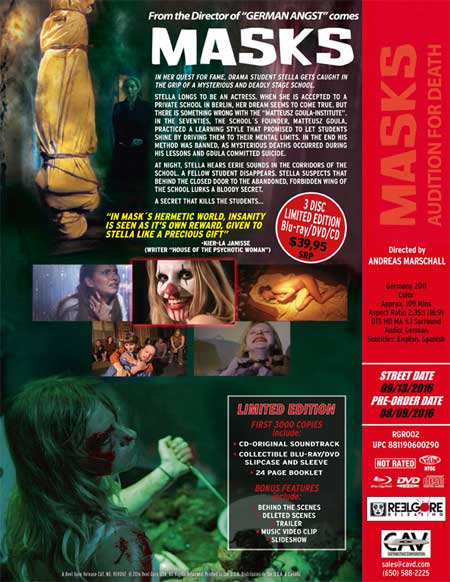 In her quest for fame, drama student Stella gets caught in the grip of a mysterious and deadly stage school.
Stella longs to be an actress. When she is accepted to a private school in Berlin, her dream seems to come true. But there is something wrong with the "Matteusz Gdula-Institute". In the seventies, the school's founder, Matteusz Gdula, practiced a learning style that promised to let students shine by driving them to their mental limits. In the end his method was banned, as mysterious deaths occurred during his lessons and Gdula committed suicide. At night, Stella hears eerie sounds in the corridors of the school. A fellow student disappears. Stella suspects that behind the closed door to the abandoned, forbidden wing of the school lurks a bloody secret. A secret that kills the students…
First 3000 copies include:
CD – Original Soundtrack
Collectible Blu-ray/DVD Slipcase and Sleeve
24 Page Booklet.
Special Features:
EXCLUSIVE ORIGINAL SOUNDTRACK CD
BEHIND THE SCENES
DELETED SCENES
MUSIC VIDEO CLIP
TRAILER
SLIDESHOW
To purchase please contact: CAV Distributing Corporation (650) 588-2228 or sales@cavd.com or your local distributor.