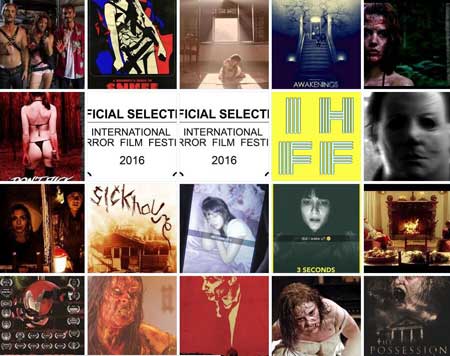 The International Horror Festival (IHFF) has announced the first 11 films that will screen in the 2016 festival. 
The festival will feature the world premieres of Scott B. Hansen's The Possession Experiment and Gedeon Burkhard's The Key, the U.S. premiere of Shawn Burkett's Don't Fuck in the Woods, and the New York premieres of Hannah Mcpherson's Sickhouse, The Butcher Brothers' A Beginner's Guide to Snuff, and John Campopiano and Justin White's Unearthed and Untold: The Path to Pet Sematary, among numerous other films.
"These eleven films represent the best in contemporary horror filmmaking," said festival founder and director John Capo. "We are so excited to share them with our audience this Halloween season."
The eleven films include:
A Beginner's Guide to Snuff
Director: Mitchell Altieri
The new horror comedy from The Butcher Brothers (The Hamiltons, April Fool's Day, The Thompsons). When two aloof brothers decide to shoot a fake snuff film in order to gain fame and recognition, they kidnap a girl-next-door-type but get more than they bargained for when their starlet begins making her own rules.
Awakenings
Previously screened at Cannes, the line between dreams and reality is blurred when a young woman in charge of two children is haunted by mysterious entities.
India, 13 min (in English and Hindi)
Don't F in the Woods
After the stress and mental anguish of finals, Alex and her girlfriend Jane trek with a few friends into the woods for a little rest and relaxation. As the group begins to unwind, something in the dark has discovered a new and intoxicating scent. This modern-day creature feature includes sex, drugs, gore, and a monster that will haunt your nightmares..
The Eve
Something terrible unfolds on Christmas night when a precocious eight-year-old makes a mysterious request to Santa.
Italy, 20 min (in English)
The Key
Director: Gedeon Burkhard
A mind-bending tale of horror and revenge from Inglorious Bastards' Gedeon Burkhard and the special effects team behind Showtime's Homeland. A gang tortures and brutally slaughters a family. Forty years later, the demons of the past have returned and will stop at nothing to fulfill their bloody destiny.
Germany, 90 min (in English)
Michael Myers: Absolute Evil
A retelling of John Carpenter's Halloween in the style of a documentary that portrays the events of the film and its six sequels as events that actually happened. Featuring interviews with survivors like Lindsey Wallace, Haddonfield residents, authors, criminologists, and journalists, Michael Myers: Absolute Evil offers a chilling, real-world perspective on the legendary horror franchise.
The Possession Experiment
Director: Scott B. Hansen
Brandon has always been drawn to the supernatural. While investigating an exorcism gone horribly wrong, he becomes obsessed with conjuring the spirit world and begins to plan his own demonic possession. This terrifying tale features Bill Moseley (House of 1000 Corpses, The Devil's Rejects, Repo! The Genetic Opera).
Virginia Beach, VA, 1 hr 24 min
Sickhouse
Director: Hannah Mcpherson
In the world's first movie filmed completely on Snapchat, a group of social media obsessed friends journey into the woods to explore the lore of Sickhouse. Viewers are led on a ride that has unexpected consequences for all involved, including the audience.
The Smiling Man
Directed by the visual effects designer of Avatar, Star Wars Episode VII: The Force Awakens and Dawn of the Planet of the Apes, this viral sensation inspired by a story posted on Reddit centers on a little girl home alone who finds herself face-to-face with pure evil.
Terror 2.0: A Space Oddity Collection
Director: Alex J. Mann, K. Adam Bloom
Seven viral short films by Space Oddity weave intricate tales of the horrors of social media, technology and the web.
3 Seconds: Allison wakes up to a Snapchat of her sleeping. Who sent it? 
Follower: A man sees a crime happening in the background of an Instagram photo. Can he stop it before it's too late? 
Engagement: Six friends have their relationships tested when they receive a mysterious text alert about a murder. 
ME2: Is the perfect selfie worth it? 
Cropped: Two BFFs learn the dangerous consequences of photo cropping. 
Green Dot: Mallory makes a shocking discovery while talking to her boyfriend on Gchat.
Runners: A couple starts using exercise bracelets to strengthen their relationship, but end up revealing their darkest secrets.
Unearthed and Untold: The Path to Pet Sematary
Directors: John Campopiano, Justin White
A seminal horror documentary about the making of Stephen King's Pet Sematary featuring people, places and stories that have previously been barely documented. This in-depth making-of includes interviews with the film's director, Mary Lambert, and nearly the entire cast. Taking the audience on a journey back to the original Maine filming locations, the film serves as not merely a tribute to Pet Sematary but a testament to power of horror filmmaking.
Pawtucket, RI, 1 hr 15 min
Additional films will be announced soon.
About the Festival
The International Horror Film Festival (IHFF) is a new event honoring the best in American and international horror filmmaking. The festival will be held October 21-27, 2016 at New York City's Cinema Village. The IHFF will bring the horror community together for a series of screenings, Q&As, and special events. Selected films will be screened alongside some of the most iconic horror movies of all time.
As part of this year's festival, the IHFF will be celebrating its 2016 Legacy Honoree, horror icon Wes Craven (A Nightmare on Elm Street, The Last House on the Left, Scream), featuring an appearance by Mr. Craven's widow, Iya Labunka. The festival will also feature a special screening of The Monster Squad with appearances by cast members Duncan Regehr (Count Dracula) and Tom Noonan (Frankenstein's Monster)
Terror Films has partnered with the IHFF as an official distributor for the festival. The alliance with the distributor will guarantee that all original feature length horror films accepted by the film festival will be reviewed by the creative team at Terror Films for worldwide distribution consideration.
Cinema Village is located at 22 East 12th Street in NYC's Greenwich Village. 
Tickets will go on sale in the fall.