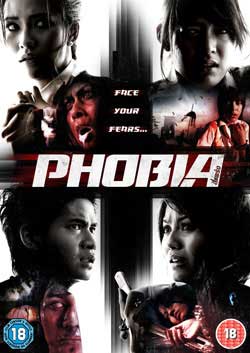 SYNOPSIS:
4BIA is a Horror Anthology. The first segment, "Happiness" is about a lonely girl who corresponded with a stranger over hand phone text messaging and soon discovered something strange about this new stranger that she is attracted to. "Tit For Tat" spun a tale of black magic and vengeance for a school kid that had been bullied by a school gang. "In The Middle" – a group of friends faced one of their worst camping trip after water kayaking accident. The final segment "Last Fright" takes horror to new heights with a psychological thriller that involves a stewardess flying solo in a cabin with a dead body.
REVIEW:
The Examination: Short, Sweet, and 4 Times The Horror 
Directors: Banjong Pisanthanakun (segment director), Paween Purikitpanya (segment "Tit for Tat"),
Youngyooth Thongkonthun (segment "Happiness"), Parkpoom Wongpoom (segment "In the Middle" and "Last Fright") 
Cast: Laila Boonyasak, Maneerat Kham-uan, Apinya Sakuljaroensuk, Witawat Singlampong, Pongsatorn Jongwilat, Chon Wachananon 
Horror is a genre that can be difficult to capture, especially in an anthology format. 4BIA (pronounced Phobia, the number 4 referencing the film's four short stories.) is a straight forward collection of four short Thai ghost stories that are very loosely connected with each other. The stories could be viewed separately, although the some viewers be advised that each story does in fact have a connection in varying chronological order. 4BIA is a mainstream collection, but it does exactly what it's supposed to- gives you a few good scares and entertains you. 
Happiness is the first short , directed by Youngyooth Thongkonthun. It's simple enough- a young woman, Pin, stranded alone in her apartment, with a cast on her leg from an automobile accident in a taxi. Having nothing to do, Pin communicates with the world via her cell phone and the internet. She's lonely and missing companionship since she just recently broke up with her boyfriend. She begins receiving text messages from an unknown man, someone who seems to be equally lonely , but friendly enough. Pin is elated at first, but then becomes alarmed when the stranger knows her every move. Things soon spiral downward and get spooky when she sends the mysterious stranger her photo. It's a beautifully shot film, and genuinely creepy. Writer-director Youngyooth Thongkonthun is best known to Western audiences for his two Iron Ladies films, about a gender bending volleyball team.
Deadly Charm, AKA: Tit for Tat, is directed by Paween Purikitpanya (who scripted the chiller BODY #19). Purikitpanya's story is about a bullied high school boy who achieves revenge from beyond the grave on his killers, in this case a group of nasty high-school bullies. Be prepared, this short is one of those films where the camera never stays still, and places the subjects just out of frame and jerks around all the time, frequently getting out of focus. So pay attention! This short is more like a condensed version of Final Destination as each bully is dispatched to death through accidents. It's the most graphic of the four films. The mayhem is familiar, death by spontaneous combustion or large objects that fall on top of the victims.
The Middleman, AKA: In the Middle, is directed by Banjong Pisanthanakun, SHUTTER co-writer/co-director. This was my least favorite of the anthology, mainly due to its comical element, but is overall good. It is a self-referential ghost story about four guys who go camping. While talking about Thai horror films they discuss what would happen if one of them died, and the general consensus is that if one died they'd come back and haunt the one in the middle. Naturally one of them goes missing and the friends spend a night terrified in the woods. The ending is predictable. I'll leave it at that.
The Last Flight, AKA: The Last Fright, is directed by Parkpoom Wongpoon and is the final short in the anthology. Flight attendant, Pim is attending a Princess of an erroneous country called Khurkistan. What the Princess apparently doesn't know is that Pim had a relationship with the Prince. After being physically and mentally abused by the Princess , Pim decides to serve the Princess shrimp, which she's allergic to. The Princess dies after reaching her destination. Khurkistan demands the Princess' body back for cremation and Pim is now in charge of taking care of it on a flight with no other passengers. The body cannot be placed in cargo , so instead is placed it in a seat covered simply with a white sheet. Is Pim crazy? Think about the airplane scene in Twilight Zone, The Movie, here.
So how are do these seemingly 4 isolated anthologies intertwine you may ask? Well, here I will tell you. The chronology of the events are as follows:
A) Story 3 ("In the Middle"). One of the teenagers' name is Ter.
B) Story 4 ("Last Fright").. Ter is mentioned as the brother of Pim's colleague and fellow flight attendant, Tui (not seen in movie) who could not accompany the flight as her brother had drowned.
C) Story 1 ("Happiness"). The girl with the broken leg is seen reading the online news about the Princess's death.
D) Story 2 ("Tit for Tat"). The image we see of the curse is the image of the girl with the broken leg who had died with her eyes open. 
As a whole, this is a decent collection that is worth watching.