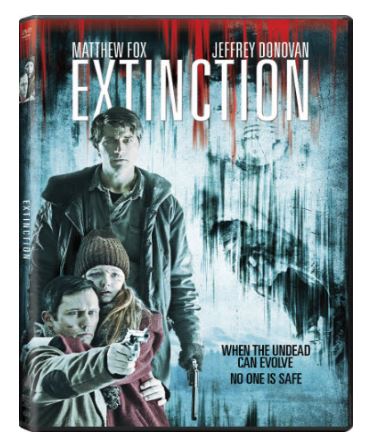 EXTINCTION
WHEN THE UNDEAD CAN EVOLVE, NO ONE IS SAFE
Terror Comes Home September 1 on DVD and Digital HD

The end of humanity is the beginning of non-stop action and excitement in EXTINCTION, available on DVD and Digital HD September 1, 2015, from Sony Pictures Home Entertainment. Matthew Fox (TV's "Lost," World War Z) and Jeffrey Donovan (TV's "Burn Notice," Hitch) team up on screen as survivors of a zombie apocalypse and former friends, who must put aside their differences to stop an attack by terrifying creatures with an insatiable appetite for human flesh. Directed by Spanish filmmaker Miguel Ángel Vivas, who came to global attention for 2010's acclaimed home invasion horror/thriller Kidnapped, EXTINCTION marks Vivas' thrilling English-language debut and delivers the kind of explosive action and suspense zombie fans won't want to miss!
Co-starring award-winning Spanish actress Clara Lago (Spanish Affair, I Want You), this must-own horror thriller arrives on DVD packed with revealing bonus features, including eight in-depth Behind-the-Scenes Featurettes.

Synopsis: For nine years, Patrick (Matthew Fox), Jack (Jeffrey Donovan) and his daughter Lu (Quinn McColgan) have outlasted the zombie apocalypse by shutting themselves off in the snowbound town of Harmony.  The monsters have seemingly disappeared, with no sign of other survivors, but the constant fear of the unknown is starting to take a toll on this makeshift family.  When Patrick goes scavenging for food, he discovers the undead have returned and evolved into something terrifying, beyond imagination. Will the last breath of the human race survive a second zombie apocalypse?
EXTINCTION was written by Alberto Marini (upcoming Summer Camp, Sleep Tight) and Miguel Ángel Vivas (Kidnapped) and is based on the novel "Y pese a todo…" by Juan de Dios Garduño. It was produced by Borja Pena (El Niño, Somos gente honrada), Emma Lustres (El Niño, Somos gente honrada), Jaume Collet-Serra (Curve, Eden), Ignacio Fernández-Vega, Brad Luff and Juan Sola (Curve, Eden). Executive producers are Gabriel Arias-Salgado, James Gibb, and Axel Kuschevatzky.
It has a run time of approximately 110 minutes and is rated R for horror violence, terror and language.
DVD Bonus Material:
The Making of Extinction
The Apocalypse
The Creatures
Visual Effects Progressions Reel
Clara Lago and Quinn McColgan
Matthew Fox and Jeffrey Donovan
Digital Effects Part 1
Digital Effects Part 2