In 2014 Yokai Films (Chicago) made their feature film debut with the wise-crackin' religious satire and action movie "Heaven is Hell," winner of Best Sci-Fi/Fantasy at Famous Monsters at Big Wow. "Heaven is Hell" was filmed in Chicago and Gary, directed by Chris Sato and Mike Meyer and involved hundreds of talented local actors and creatives. Now the directorial team behind the movie is teaming up again to bring an equally irreverent treatment of Easter, and the beloved Easter Bunny, provided they can hit their fundraising goals by May 10th.
[springboard type="video" id="1512479″ player="horn005″ width="480″ height="400″ ]
Yokai Films is no stranger to crowdfunding campaigns, having two successful kickstarters under its belt with "Heaven is Hell" and the widely viewed web series "Hitwomen." Bunny is their most ambitious project to date, with a goal of 33k.  As with all kickstarters, if they don't reach their goal, they don't get funded. If they reach their funding goal, they plan to go into production later this year, then release in the festival circuit.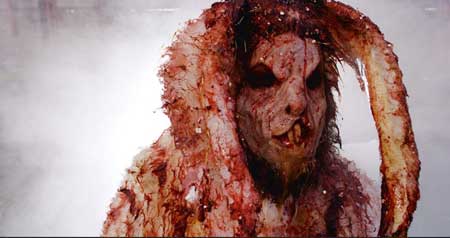 "Bunny" is a blood soaked, sinister tale of a town obsessed with Easter. The meddling of a noted anthropologist, an obsessed group of Easter Bunny cultists and a newly transplanted cop end up sabotaging their Easter festivities by awakening an anthropomorphic bunny demon. Soon they discover the long storied mythology of the real Easter Bunny, and realize that the legendary floppy-eared hellbeast is hopping down the bunny trail to their doom.Sound like your cup of holiday tea? Check out the kickstarter page, donate to the project and share.
Kickstarter: www.kickstarter.com/projects/1050810248/bunny-1
Facebook: www.facebook.com/thebunnyfilm
Twitter: twitter.com/thebunnyfilm
Youtube: www.youtube.com/user/yokaifilms