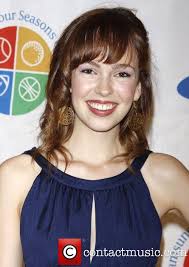 Actress Brittany Allen has been a fixture on television since 1999, having appeared in a multitude of series and movies like What Katy Did (1999), Prom Queen: The Mark Hall Story (2004), All My Children (2009-10), Defiance (2013) and Dead Before Dawn 3D (2012). She can currently be seen as April in the latest film from The Vicious Brothers, "Extraterrestrial". Currently on a press junket to promote her new film, she took a few minutes of her busy schedule to speak with Horrornews.net.
Horrornews.net: I thought you were so good in this movie! You are so convincing here, especially in the more emotional scenes where you're crying. What did you tap into in order to get those emotions to bubble up to the surface so efficiently?
Brittany Allen: That's what good acting is! I guess all actors have different ideas on how to get to that place, but for me…when I'm experiencing something as an actor – it's coming from a real place for sure. If it feels fake to me, then I'm not getting what I want and I think the audience can pick up on that as well. I really just tried to put myself in April's shoes, she was a character I related to right off of the bat, so a lot of her journey wasn't that hard for me to connect with. And with the more dramatic scenes, I just took a leap and went for it! Luckily, I had both Colin and Stuart (The Vicious Brothers) to guide me through it.
HNN: How did you get the role?
BA: I had to audition for it. Casting Director Tiffany Mak got in touch with my agent, and the script got sent over to me. As I've said before, it was just one of those things that was meant to happen. As soon as I saw the message in my inbox, I had this really strong feeling about it. Not to sound all hippy dippy here, but I see a lot of projects come my way but sometimes I see a script and think that they had someone like me in mind when they were writing it. And at my core I felt like I had something in common with this character. So I put myself on tape and sent it to the guys, and afterwards we met on Skype, sealed the deal and flew to Vancouver a few weeks later! The one request they had for me was to buff up a little bit for the shoot, April goes through a lot here and they wanted me to be physically ready to take her on.
HNN: It is a very physical role. Had you ever done something like this before?
BA: No! It was a first for me in many ways. It was a wonderful challenge and really liberating for me in a lot of ways. She's a tough girl and I don't always project that in my personal life, but I respect women that do. I was nervous during the first few days of filming because I was hesitant to settle into her hard edge for fear of appearing like a bitch. But it was a great experience and I had a really great time.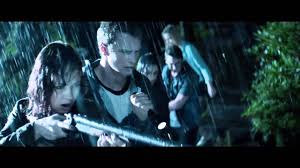 HNN: What was it like being covered in all of that slime & goop the aliens use?
BA: [Laughing] It was not the greatest! We shot those scenes over two days and at first it was kinda fun, it was a new thing. But on the second day, I was covered in it for between 12-14 hours and it is…very gross! It's a thick slime and it was all over me, in my shoes…under my clothes…everywhere. I remember Stuart yelling on set that it wasn't enough and he poured more of it over me. But those things do make a visual difference and it was all for the film, so I didn't mind.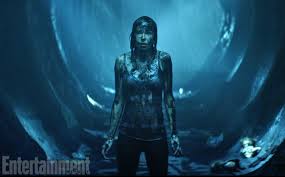 HNN: I see you just directed a film (Valentines Day). What can you tell us about it?
BA: It's a short film that I wrote/directed about a year ago and it's my first film. It's a small, intimate drama that I shot over one night with a group of friends in LA and it's something that I'd like to do more of. My main focus is on acting, but I love to tell stories and currently I'm writing a script that I hope to complete in the next few months.
HNN: Is this a genre that you'd like to continue to work in for future projects?
BA: I'm open to pretty much any genre. The most important thing for me when I read a script is connecting to the character and helping to realize a human being with many elements. I'm definitely down to work within the genre, but I do enjoy dramatic roles and I enjoy a really good comedy as well.