13 DAYS OF #HALLOVINE!
The Crypt and 13 of your favorite horror directors invade your phone!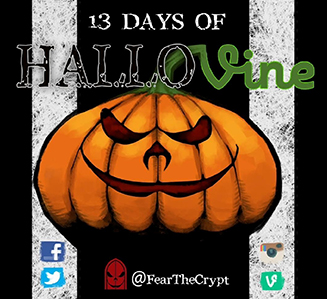 Check out The Crypt on Vine, Twitter, and Facebook @FearTheCrypt or on the app FeartheCrypt.com
The Crypt, Eli Roth's multi channel horror studio and iPhone app, is bringing fear to your phone this Halloween as 13 directors are participating in The Crypt's 13 Days of
#HalloVine!
#HalloVine begins October 3rd and ends with Eli Roth himself on October 15th! Find these scary Vines by following The Crypt on Vine or checking out any of The Crypt's social media channels @fearthecrypt.
The director of the day will conquer the realm of digital scares and take over The Crypt's Twitter, Vine, Instagram, Facebook and the Crypt App giving fans the chance to
connect with their favorite directors and find out what inspired their love of horror.
Don't miss out on the sinister social media fun, be sure to check in each day to The Crypt:
Twitter: @FearTheCrypt
Facebook: facebook.com/FearTheCrypt
Instagram: instagram.com/FearTheCrypt
Vine: vine.co/FearTheCrypt
Starting the terror is James Cullen Bressack, the 22 year old directed with an impressive resume of scares including 13/13/13, Hate Crime, Blood Lake and the recently
completed Pernicious. What terrors did James fit into 6 seconds? Check The Crypt's social media handles to find out!