It's not everyday that I get a chance to get up close and personal during the making of a horror movie.  Woodhaven Films just wrapped on their newest film, "Almost Mercy", and they graciously invited me up to Rhode Island to watch the movie magic happen.  This is the passion project of writer / director Tommy DeNucci, who has previously directed Self Storage and Army of the Damned.
I had a chance to talk to Tommy the morning of the funeral shoot and he was focused and ready to rock.  The coolest thing happened that day, not only did I get an outstanding interview with Tommy ( to be posted separately ), but him and the good folks at Woodhaven Productions allowed me the honor of actually being involved with their fine film.  I spent the entire day at a small town church that would be the location of the movie's funeral scene, and I would be one of the extras who attended the funeral.  I sat in the front row pew just arms length away of the casket, almost able to feel the creepiness.  As the crew worked to produce a fog that filled the church, you just knew that you were part of something brilliant in the name of horror.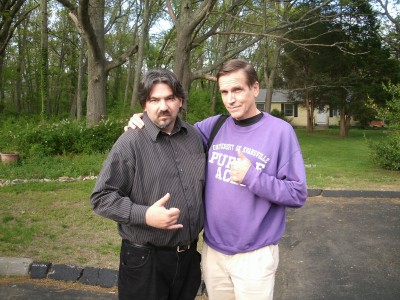 Amongst a filled church of mourners  and in front of the lights and cameras, Pastor Johnson, played by the incredible Bill Moseley ( Rob Zombie's House of 1,000 Corpses and The Devil's Rejects ) preached the good word in a way that is perfectly suitable for this horror tale – disturbing.
It was a rare pleasure to watch a horror icon such as Bill work his craft live and in person.  It was hard to fight off my excitement, but I was there to do a job and be a sad member of the extended family, along side Sandy Fogell and Marie DeNucci ( Tommy's mom ).  Great experience!  We all watched Bill's performance in awe.  Speaking of family and from this outsiders insight, one of the reason's for the success of Woodhaven Films and their movies, is because they REALLY are one big family.
Producer, David Gere ( Sensory Perception and Buddy Hutchins ),  extended me a VIP invite to the set where I gained so much more than a day's worth of movie making knowledge,  You can also see David as DG Haven on the wrestling circuit, Movie Producer turned Wrestling Manager.  He is a man with many talents.  David will be working as both actor and producer, in the upcoming horror film, DEAD afterlife.
I also had the pleasure of meeting Danielle Guldin who stars as Emily in Almost Mercy.
It was a surprise treat to meet and talk with the owner of Woodhaven Films, Chad Verdi.  He showed up as the sun was going down and the long 12 hour day of shooting was coming to a close (I wish the day didn't have to end).  Chad told me that he's always on the set from beginning to end with all his movies, but with Almost Mercy, he had enough respect and confidence in Tommy DeNucci's ability that he felt at ease having Tommy really own this project.
I told Chad that from my vantage point the cast and crew really worked hard for Tommy and the day went by super duper smooth.  Chad attributes this to Tommy taking this project from concept to completion and the cast and crew wanted to work extra hard because they know this is really a passion project for Tommy DeNucci.  I'm beyond elated to have been a small part of the movie, Almost Mercy, and very happy to help make this happen for Tommy and everyone at Woodhaven Productions Co.
It's no secret that Almost Mercy is the first of a ten picture deal that Woodhaven Films has with Screen Media Films and Universal.  This movie is going to be a BIG DEAL!
… and Horrornews.net was there!!!!
More exclusive information on Almost Mercy and Woodhaven Films in the weeks and months ahead.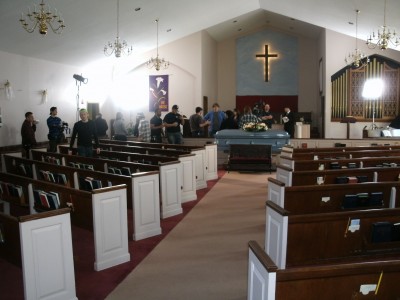 Title: Almost Mercy
Jackson and Emily aren't like the other kids. Two burgeoning sociopaths on the brink of total meltdown. Ticking time bombs seeking revenge. Who will unravel first?
Directed by Tom DeNucci
Written by B Dolan and Tom DeNucci
Starring: Bill Moseley, Kane Hodder
Producers: Chad A. Verdi, Tom DeNucci, David Gere, David Lussier
Director of Photography: Sam Eilertsen