A low-level crook must break out of jail in order to save his family from a deranged killer in the year's biggest thriller import, THE PREY. Albert Dupontel gives an unforgettable performance as a "good" bad man in director Eric Valette's new hit, coming to Blu-ray and DVD from Cohen Media Group on January 21, 2014, with SRPs, respectively, of $34.98 and $24.98.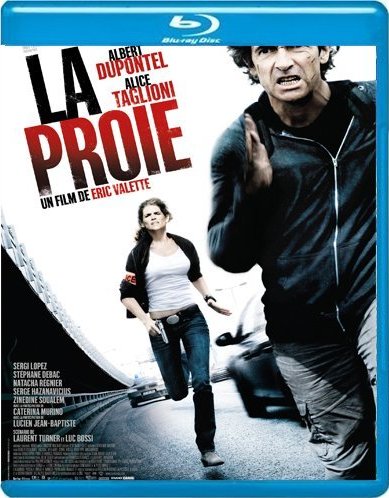 Bearing some of the traits of such modern classics as The Fugitive, Enemy of the State and Taken, THE PREY makes its own mark as a dose of pure suspense. Franck Adrien (Albert Dupontel, The Clink of Ice, Paris) is serving a short prison sentence for robbing a national bank, but before he got caught he managed to hide the money. And it's not just the police who are looking for the loot. Franck has unwittingly told his seemingly friendly cellmate Jean-Louis Maurel (Stéphane Debac, Mr. Bean's Holiday, The Girl Cut in Two) about the money, but soon Jean-Louis is cleared of the charges against him – rape and child molestation. His departing words as he leaves prison are a promise to Franck that he will look after his family.
  A Desperate Man Is Both Hunter and Hunted in a Gripping and Unrelenting

Franck's qualms turn to genuine fear when he learns that Jean-Louis really is a serial killer, and Franck's family may be his next target. It's up to the bank robber to somehow break out and protect his family – and his hidden stash – while remaining one step ahead of the police. Alice Taglioni (The Pink Panther, The Valet) and Sergi López (Potiche, Ricky, Pan's Labyrinth) also star in this "white-knuckled entertainment" (Manohla Dargis, The New York Times).
The New York Observer's Rex Reed called THE PREY "a slick, suspenseful adrenaline rush disguised as unexpected, nerve-wracking fun!" The New York Daily News' Elizabeth Weitzman said, "Director Eric Valette is smart enough to rely on his most authentic effect – Dupontel's natural intensity."
Cohen Media Group's Blu-ray and DVD of THE PREY both include an interview with director Eric Valette (One Missed Call), a making-of documentary and more.