Haley Joel Osment, now there's a name we haven't heard in a while. I shouldn't need to remind you but he was the little kid who saw "dead people" in THE SIXTH SENSE. Well, he's not a little kid anymore and to the best of my knowledge hasn't made a lot of films, especially horror films in quite a while but he just landed himself a pretty major gig.
Kevin Smith has cast him in his next project, a film titled TUSK. This will be Smith's second foray into genre type material his first of course being RED STATE which I actually like quite a bit. Already cast in the film were Michael Parks and Justin Long. The following synopsis will bring you up to speed:
Financier and production company DEMAREST FILMS (Machete Kills, A Most Wanted Man) will underwrite and produce visionary director Kevin Smith's next film, the audacious and utterly terrifying Tusk.
Tusk, which commences principal photography in Charlotte, North Carolina, on November 4, will star Justin Long (Live Free or Die Hard, A Case of You) and cult favorite Michael Parks (Red State, Django Unchained). Smith will direct his own script, which evolved from Episode 259 of his long-running podcast with Scott Mosier, the award-winning SModcast. Tusk's horror story follows a podcaster who sets out to interview an eccentric, reclusive old seafarer, only to find himself a plaything in the gruesome plot of a deranged killer.
Demarest's Sam Englebardt and William D. Johnson will produce Tusk alongside Shannon McIntosh for Smith's SModcast Pictures banner. Demarest's David Greathouse and Jennifer Schwalbach are executive producers. SModCo's Jordan Monsanto and Chris Parkinson, the author of the hoax walrus ad, are associate producers.
With production starting up in just a few short weeks, I'll have lots more for you soon!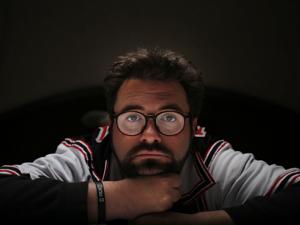 Source: Dread Central